Hybrid Burgers – Opportunity or Fad?
Looking back only a decade or two, burgers were a basic takeaway food ordered for convenience and price. Since then, the humble burger has experienced a rollercoaster of popularity, it became a health issue for several years, so people were turned off. Until recently, we have seen a massive resurgence and burgers have gone from something very basic to a destination-food growing in popularity. 
The biggest trend at the moment for burgers is hybrids – where many restaurants and burger outlets are taking things that aren't traditionally on a burger and putting it inside a burger. This means we are seeing mac'n'cheese burgers, chicken parma burgers and Banh mi burgers.
This same approach has led to more international inspired flavours making their way into burgers. So is this hybrid approach an opportunity for up and coming venues or a fad to be avoided? Darren O'Brien, National Account Manager at Tip Top Foodservice thinks it is important to research before committing to a niche burger offering, but that doesn't mean you shouldn't try it.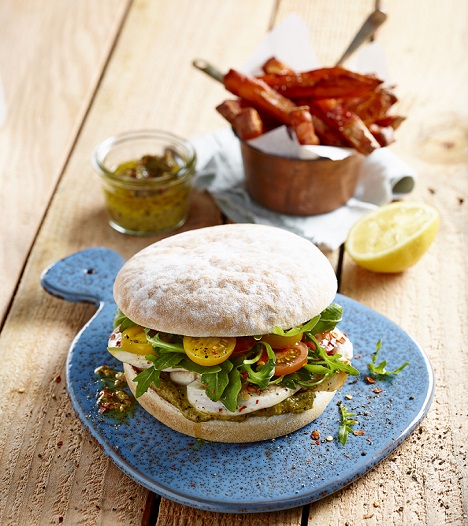 "Do a lot of research, look at trends overseas, especially in the USA, and don't be afraid to experiment with hybrids, try different sauces, add spice, change up vegetables (not always salad – try coleslaw or pickled vegetables) and look at what types of cuisines are trending in your area," he said.
"Everybody is loving Asian and Mexican cuisine at the moment so how can you make that work in your burger? It can be as simple as a sauce."
"I also recommend chefs mix and match their burger offerings – offer a menu where customers can choose their bun whether that is brioche, Turkish or a traditional bread. This gives customers more variety and control over their meal."
Tip Top and Speedibake have the added benefit of being able to thaw and serve as you need but you don't need to stop there. Chefs can then toast them, put them in the oven for a few minutes to refresh and get that 'just baked' feeling or char grill them.
Tip Top offer a range of burger buns including 4 and 5-inch Brioche Style Burger Buns and 2.5-inch Brioche Style Sliders as well as the 4 and 5-inch Hamburger Bun and Damper Bun.  On top of that, Speedibake has a range of dinner rolls that are perfect for sliders.
For more information and to see the full range visit the Tip Top Foodservice website.

March 30th 2017