New Gluten Free Muffins from Bakers Maison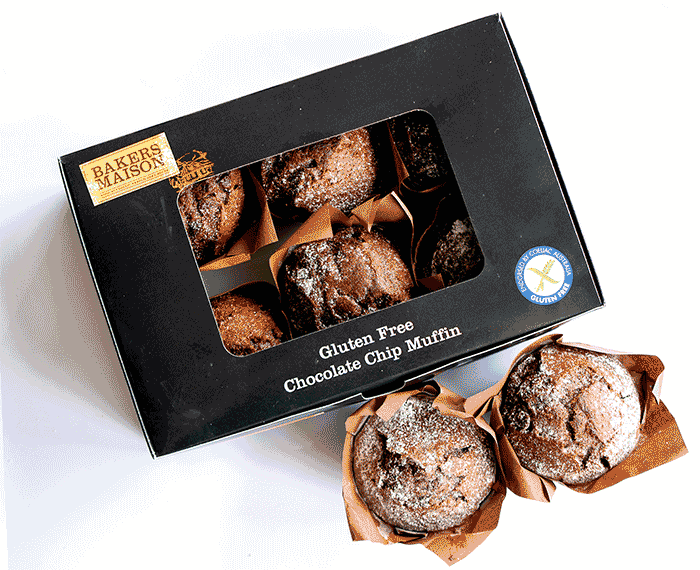 Bakers Maison's renowned gluten free range has grown again, with the introduction of the Chocolate Chip and Raspberry Crumble Muffin.
These muffins are moist, sweet and full of flavour – the perfect treat for those with gluten intolerances or following a gluten free diet. They are packaged in branded boxes of 6 units, allowing café owners to display the muffins on counters as an add-on purchase.
As a growing number of Australians are diagnosed with Coeliac disease and gluten intolerances, it is important to provide more food options that suit people's needs.
"We are waving the flag for the gluten-free market and giving café owners an avenue to increase revenue for a very specific group", Bakers Maison's national sales manager Doug Colville says.
Other products in the Bakers Maison gluten free range include the best-selling white bread loaf, multigrain loaf, white chia loaf and white rolls. These products are all produced in a purpose-built facility dedicated to gluten-free products, which enables the Coeliac Australia certification.
The Gluten Free Chocolate Chip and Raspberry Crumble Muffins are available nationwide through foodservice distributors. Muffin boxes are shrink wrapped after production to help prevent cross-contamination and have a 5-day shelf life in ambient temperature once thawed.
To find out more information visit bakersmaison.com.au or contact info@bakersmaison.com.au
7th February 2019