The Return of Turkish Bread at Lunchtime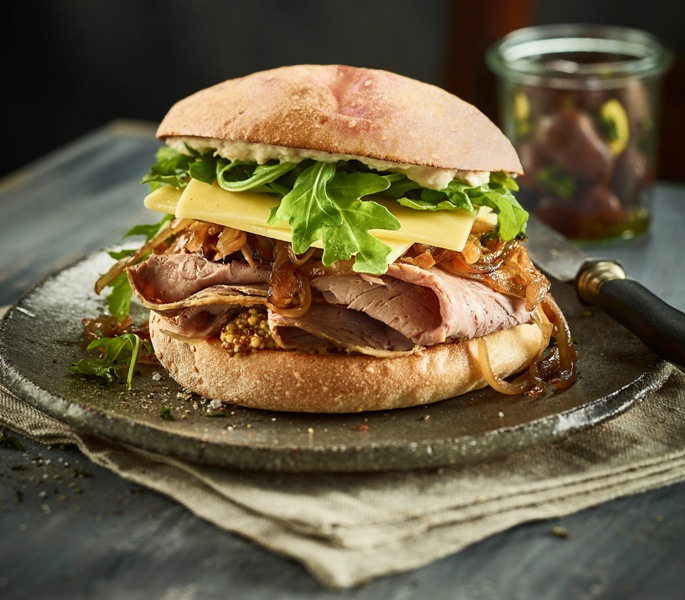 Lunchtime trends all have their place when it comes to the demands of a grab-and-go crowd. Sushi, soup and salad will always have a loyal following, but the stalwart of the lunch industry is the good old-fashioned lunch roll. It is rare to see a menu without a gourmet roll of some sort – in fact, according to Tip Top Foodservice, 47 percent of bread is consumed at lunchtime.
And it seems the Turkish Roll is making a comeback on the lunch scene, elevating the humble lunch roll to new heights – toasted or fresh. Speedibake's Soft Turkish Round and Oval Rolls, perfect for lunch, have almost doubled in popularity in 2017 according to Tip Top Foodservice, as cafes and grab-and-go lunch outlets take advantage of the products' versatility.
Today cafes are using the soft Turkish breads to create modern and satisfying menu offerings. Think open sandwiches, toasted rolls, fresh seasonal ingredients or even a bit of melted cheese to ward off the winter blues.
Don't be afraid to experiment across cultures – sure it is Turkish bread but that doesn't mean you can't pair it with Asian-influenced pork belly, kimchi and apple, or bring in some British style with a classic roast beef and horseradish combination.
Speedibake's Soft Turkish Round and Soft Turkish Oval rolls are available frozen through distributors nationally and can be kept in the freezer for up to 12 months. The range also includes a larger Soft Turkish Pide Loaf and all products can be thawed as needed so there is always enough on hand for a lunch rush. For more information visit www.tiptop-foodservice.com.au

RECIPE:
Pork Belly, Apple and Kim Chi Kewpie Sandwich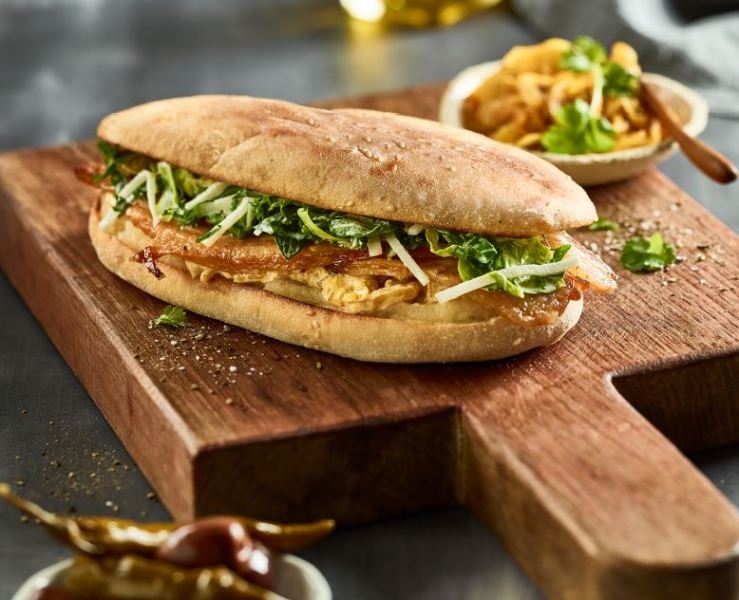 Ingredients:
Speedibake Soft Turkish Oval Roll 
6 slices cooked pork belly
3 tablespoon apple sauce
1/4 teaspoon five spice 

For Slaw
3 tablespoon kewpie mayo
1 teaspoon kimchi
3 brussel sprouts, roughly chopped
4 slices daikon radish
1 cup: mix of coriander, mint & Vietnamese mint 
1 teaspoon jalapeños
1 kale leaf, stalk removed and shredded
Butter


Method:

Grill pork belly until golden brown and a little crispy, set aside.
Slice Turkish roll in half, butter insides and lay buttered-side down on the grill. Ideally there will be pork fat still on the grill, place the bread on this fat for optimal flavour. Grill until golden on the inside
In a small bowl mix together five spice and apple sauce, spread on the base of the Turkish roll.
In the same bowl mix together kimchi and kewpie mayo, set aside 
Mix slaw ingredients and dress with kewpie mayo mixture. 
On top of apple sauce place grilled pork belly, top with dressed slaw and top of Turkish roll, serve

July 27th 2017