Your most popular menu item all wrapped up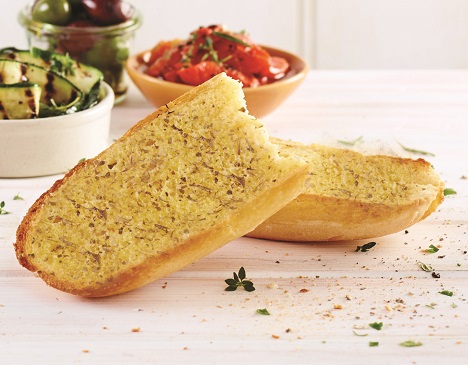 From simple side dish to show-stopper - AGB's garlic breads are a kitchen's best friend
Anyone working in the Australian foodservice industry knows that garlic breads are a simple and effective way to keep customers happy.  Though particularly suited to Italian pasta meals, garlic bread has become a signature menu item across a huge number of venues across the country. 
Garlic breads provide an opportunity for outlets to save time and money by purchasing quality flavoured breads ahead of time and storing in the freezer. Wrapped in foil and ready to bake, all it takes is a few minutes in the oven to provide just-baked crispy garlic bread for customers to share.
The popular side provides cost effective solution to the growing demand for sharing menu items and the AGB range of garlic breads are a perfect fit for kitchens looking to meet this demand without adding unnecessary preparation time. The range includes products such as the 9" and 11" Garlic bread in foil, along with the 9" Garlic bread horizontal cut. Each Individual loaf cooks rapidly, making them a quick-to-table solution.



AGB also provide single-serve mini loaves (known as the 4.5" Garlic Bread for One) for foodservice providers, such as caterers and pub owners, that know sometimes a single serving is the most cost effective solution for keeping customers happy before their meal is served.
With nine months frozen shelf life, the loaves come in small cartons that can be stored easily in the freezer and baked on demand for restaurant quality just-baked bread.
To order some of AGB's signature garlic bread contact your local distributor or head to www.tiptop-foodservice.com.au
May 31st 2016