Santoku Chef's Knife, the best ally in your kitchen
Inspired by Japanese culture, our Santoku Chef's knife fulfils the three most important functions in the kitchen: slicing, cutting and mincing.
It's true specialty is to do everything right. Thanks to its particular shape, light weight and perfect balance, Santoku is a versatile knife that you will enjoy using every day. Find the knife in different handles and choose the one that goes with you according to your needs. For all this, it is a knife that you must have as an ally in your kitchen, whether for domestic or professional use.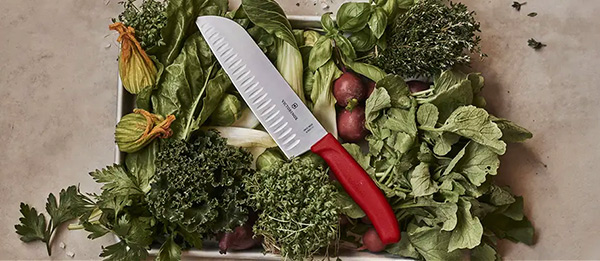 Swiss Classic
---
Every kitchen task, from the minute to the mammoth, has been considered in the conception of the Swiss Classic collection of knives by Victorinox. These are lightweight, dishwasher-safe pieces that are 100% Swiss made.
---
Swiss Modern
---
Every blade is formed of wear-resistant stainless steel to enable effortless cutting. Available with richly grained, unique handles in warm European walnut wood or with synthetic handles in vibrant colours or in classy black, these pieces are ergonomically shaped for ultimate comfort.
---
Grand Maître
---
Each piece in this widely sought range is of a full tang construction, uniformly hardened and forged from a single piece. Because of this, the transition from blade to handle is sleekly seamless, with the latter ergonomically shaped for comfort even over sustained periods. 
---
Santoku Knife in a set
---
The pride and joy of every chef is their collection of knives. So when it's time to upgrade to high performance cutlery, Victorinox has everything for a chef like you. Our kitchen and table knives are high-quality and low-maintenance, featuring the best materials and timeless design. And our knife blocks are the perfect way to store them safely while keeping them within reach.
---
Find out more about the Victorinox Santoku Collection
---
21st September 2021