Miele SmartBiz: Fast, Durable, Economic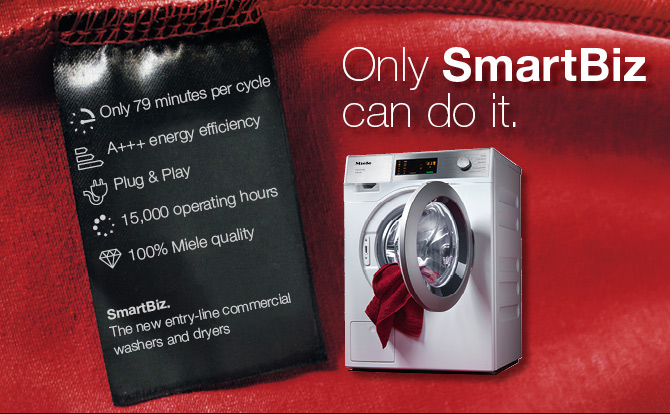 An accessible laundry solution specifically developed for commercial use. These appliances excel in terms of their short cycles, extreme durability and exemplary results.
The SmartBiz laundry range is designed to cope with several cycles a day in a commercial environment and rise to the strain and duress over time with quality components built to last. The range includes a 7kg washing machine and matching 7kg heat-pump dryer, which can be installed side-by-side, or as a washer-dryer stacked unit (basic stacking kit or drawer stacking kit options) or mounted on a plinth with built-in drawer. Machine installation is simple, as these models arrive ready to "plug & play" with a standard 10 amp plug – just like a domestic model.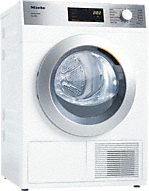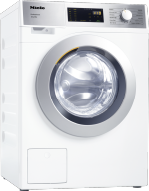 Both the washing machine and the dryer are tested to last 15,000 operating hours or 10,000 programme cycles, setting new standards in the entry-level sector of professional laundry care.
Considerable energy and resource savings are achieved with the SmartBiz Heat-Pump Dryer, with electricity consumption of 1.02 kWh in the standard Cottons programme. This equates to savings of up to 75% compared with many commercial condenser dryers in the same size category – and results in clear cost reductions. The dryer offers additional options such as a programme to loosen damp woollen loads or one to take the creases out of textiles.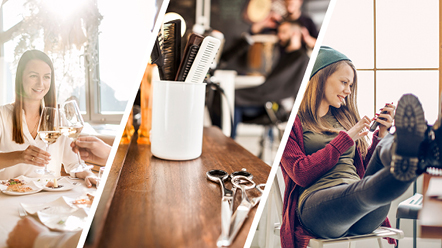 Wherever up to three programmes are run a day – for example in small businesses, guesthouses or sports clubs, machines catering for a 7kg load represent a robust and long-lasting alternative at an attractive price.
Miele's new SmartBiz appliances complement the current Miele Professional laundry range, which features a selection of commercial appliances catering for larger laundry requirements.
---
---
31st August 2021