RECIPE Perfect for Mother's Day: Red Velvet Pancake Stack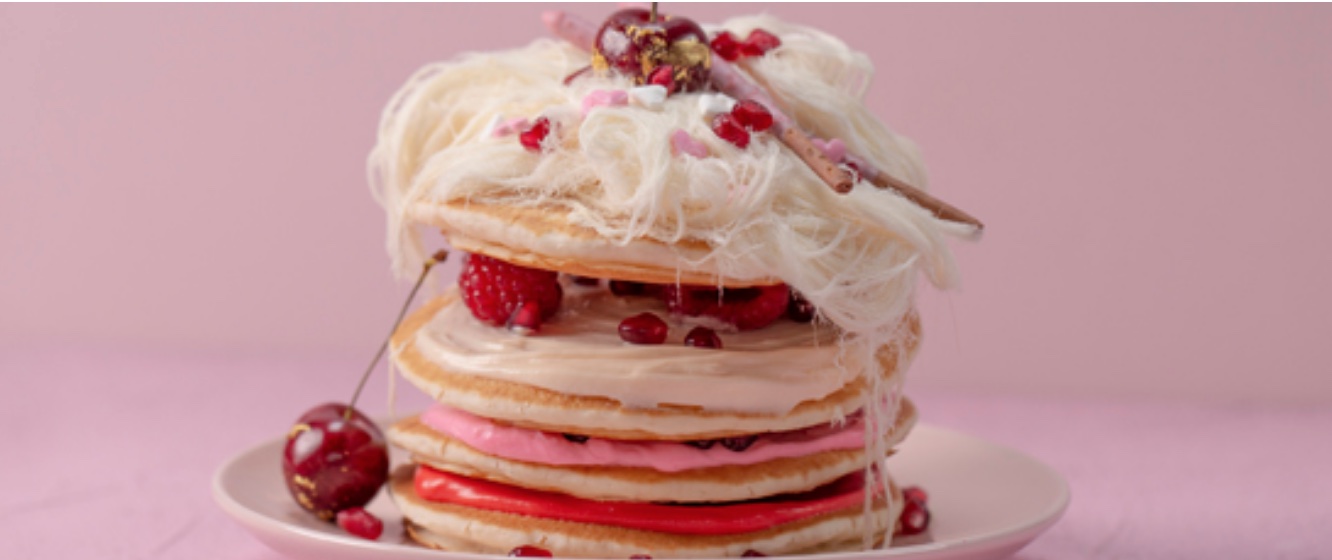 Looking for a recipe to make Mother's Day extra special for your customers? Try out this impressive layered pancake stack made easy with Golden Pancakes from Tip Top Foodservice.
Ingredients
½ cup raspberries

2 cherries

2 tbsp pomegranate arils

1 cup Persian fairy floss

2-3 strawberry Pocky

1 tsp heart-shaped sprinkles

2 tbsp maple syrup

Cream Cheese Filling:

200g cream cheese

1½ cups thickened cream

1 tsp vanilla extract

½ cup icing sugar

Red food colouring
Method
To make the cream cheese filling, start with a large, chilled mixing bowl. Beat the cream cheese for 2-3 minutes until smooth, scraping down the sides of the bowl occasionally.

Pour in half the cream and continue beating until it combines.

Continue to add the remaining cream and beat on medium-high speed until peaks form.

Add the sugar, vanilla extract and beat until stiff peaks form.

Split the filling into three separate bowls. To one, add one drop of red food colouring and beat until combined. To the next add 2-3 drops of colouring and combine. To the third add 4 drops of colouring and combine. Adjust the colouring so you have a spectrum of pink filling.

To assemble the stack, start with one Golden Pancake, spread with the darkest filling and top with 2-3 raspberries and a teaspoon of arils.

On another pancake spread the middle filling, place on top of the first pancake repeat the toppings.

On the third pancake spread the lightest filling and repeat the toppings.

Place the remining pancake on top and top with fairy floss, cherries, pocky and sprinkles.

Serve immediately.
20th April 2021