The clever professional solution for small businesses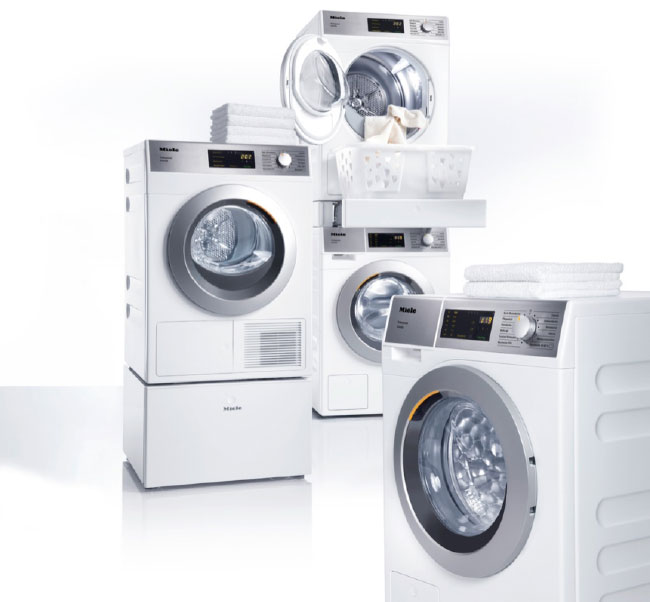 Whatever your hospitality business:
Guests and clients expect cleanliness, tidiness and immaculate textiles.
Economical washing machines and dryers from the new SmartBiz entry-level model range were specifically developed for commercial use and excel in terms of their short cycles, extreme durability and exemplary results.
Both models are Plug & Play, ready for use, and are the products of choice in providing reliable washing and drying results up to three times a day.

 


Fast wash programmes

Perfect wash results in half the time compared to domestic machines and faster than comparable commercial machines. Even if you have to wash several times a day, you can always count on a fresh supply of laundry with SmartBiz. 


Energy efficient

Cost-cutting the environmental way: Miele Professional commercial laundry machines excel in terms of extremely low consumption and are acclaimed for maximum efficiency. The energy saving heat-pump dryer uses about 50 % less energy. Moreover, the short running times make it perfectly suited to the demands of professional laundry care.


Simple plug and play system

Both SmartBiz models come fitted with a supply lead and 10A plug, ready for operation, so that machines only need to be installed, plugged in and switched on. Things couldn't be simpler or faster. 


Choice Materials

Key components subject to wear and tear are made from durable materials and do not feature plastic: The outer drum and the drum ribs made from stainless steel, cast-iron counterweights, the drum suspension and a pulley wheel made from die-cast aluminium. As a result, both machines live up to commercial expectations – leaving you free to plan ahead. 


Tested for 15,000 hours

Domestic appliances are not up to the rigours of commercial laundry care. Thanks to high-quality materials and a rugged design, SmartBiz units are designed for 10,000 cycles or 15,000 hours of operation. Whether one or three washing or drying cycles a day: SmartBiz will continue to produce top-class results for many years. 


Patented technologies

The patented honeycomb drum ensures that laundry is gently washed. And thanks to the innovative PerfectDry system, your laundry is dried faster, more uniformly and more gently. This way, your textiles remain spruce and in as good shape as on the first day, even after many washing and drying cycles. 


100% Miele quality

Our guiding principle is the highest quality. All appliances from Miele Professional undergo comprehensive quality tests and an extremely rigorous final inspection. The ongoing and stringent quality controls are an important part of the high quality standards that Miele Professional sets itself.
The right solution for every job
With SmartBiz, Miele Professional offers perfect entry-line models for professional laundry care.
Whether aprons, towels or sports shirts, there is a variety of washing and drying programmes, providing solutions for clients from a wide range of businesses.
It's about much more than perfect cleaning performance: fitness for everyday use, flexibility and the safety of users are key aspects on both machines. That is why SmartBiz models offer additional features which make your work more efficient, safer and more convenient.
 

  

Simple, intuitive operation
thanks to a rotary selector with plain text and a display providing further information.

More laundry per cycle
thanks to large drum volume of 64 l for a 7 kg load capacity

Perfectly washed laundry
with a variety of washing and drying programmes for various textiles, e.g. 'Cottons', 'Minimum iron', 'Intensive', 'Woollens', 'Cleaning textiles' and many more.

Considerable energy and resource savings
thanks to efficient and fast programmes and an A+++ energy efficiency rating

Increased flexibility
through matching accessories and the opportunity to use both models in a washer-dryer stack with a drawer or with a drawer and a plinth.

A reassuring feeling
thanks to Miele's excellent award-winning after-sales 
Wherever you work, we can help!
Simply contact us – and we are sure to come up with the perfect solution for your business!
29th March 2021