How to choose between a freshwater or tank dishwasher?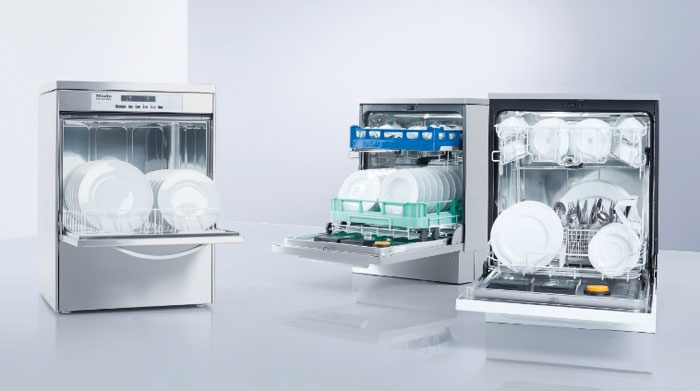 If your hard working commercial kitchen is considering a new dishwasher, you've probably come across two main types of machine, tank and freshwater.
What's the difference and which is best for your business?
---
FRESHWATER
---
 Fresh water dishwashers replace the water after each cycle.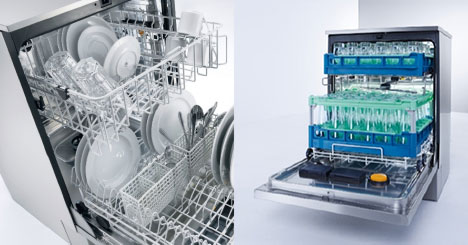 A fresh batch of water is taken in for each part of the cycle, heated and then used to wash and rinse dishes and cutlery. Due to the powerful heater pump which heats water during circulation, the shortest cycle for Miele's PG8059 lasts only 5 minutes. Dishes can be loaded on two levels and the three spray arms ensure items are thoroughly cleaned, making them ideal for mixed loads with varying degrees of soiling.
For even greater cleanliness and hygiene, Freshwater dishwashers assume responsibility for the entire cleaning process: pre-rinsing, washing, rinsing and drying. All you need to do is load it and leave it to do its job. They are also much quieter than a tank washer.
Compared to tank dishwashers, the PG8059 is the economical choice when washing fewer than 40 cycles per day. Energy consumption only begins when a programme is started, compared to tank dishwashers that require constant heating of the tank water to ensure permanent readiness.
---
TANK
---
 A tank washer is designed for particularly short wash cycles and quick succession of programs.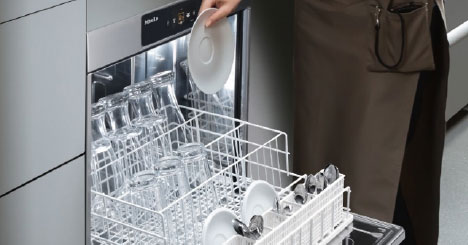 Consequently it functions in a very different way. These machines have a tank that contains the water used during the cleaning process. When a tank washer is switched on, water enters the boiler and is heated before entering the tank in stages. During operation the water in the tank dishwasher is constantly filtered and re-used for washing. To ensure permanent readiness, short cycles times and hygiene, the tank is constantly heated which is how the machine achieves short cycles lasting around 55 seconds (Miele's PTD703).
In each cycle, fresh water is taken in for rinsing, however in order to achieve good cleaning results, pre-rinsing of crockery is recommended to avoid excessive soiling of the tank water.
Tank dishwashers are one of the quickest dishwashing systems on the market. Able to run short cycles which will allow you to process high volumes of crockery and cutlery, ready to use again in minutes.
If you have a high volume of dishwashing or speed is the key factor in your decision. A tank system is a great option as it will process your dirty plates a lot faster.
1st December 2020