Top 10 tips for optimal cleaning results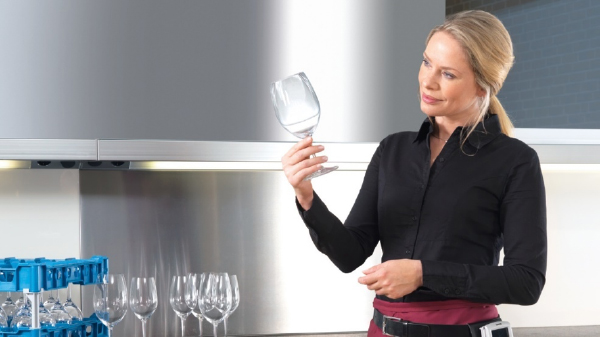 Fill the basket, press the button – that's it, right? 
It takes more to get the best out of your dishwasher. Here are ten tips for the best cleaning outcomes.
 

 

 

 

 

Working in harmony

A dishwasher is most efficient when the water quality, detergent and dispensing quantity are optimised for the load in question and the degree of soiling. The basic settings of the machine is therefore particularly important.

Ask your service representative for assistance.

 

 

 

 

 

 

Pre-rinse

Large amounts of food residues should be removed before the dishes are loaded into the machine. Starchy foods such as potatoes are particularly problematic because they form a crust on the dishes which is difficult to remove. 

Here it's a good idea to quickly rinse the dishes with lukewarm water.

 

 

 

 

 

 

 

Professional dishwasher detergent

Professional machines require professional detergents. Common household detergents normally dissolve too late because of the short programme times. Specially optimised formulations are therefore required. 

Detergents should be stored in a dry, dark and cool place. Be sure to observe the use-by date!

 

 

 

 

 

Correct dispensing

Always observe the dispensing recommendations. This ensures that the required quantity of detergent can be optimised for the degree of soiling of the load in question.

More is not always better.


 

 

 

 

 

 

Water hardness

The water hardness affects what kind of detergents will be suitable and the amount to be dispensed. The best thing to do is ask for support from your service representative in order to optimise your setup. 

Water treatment systems help to keep the water free of limescale.

 

 

 

 

 

 

Smart loading 

Load glassware at a slight angle to make sure that the water drains off and that they dry properly. Cutlery should be loaded pointing up. Large, heavy items should be loaded into the lower basket.

The baskets show you the direction in which dishes should be loaded, so the design is fairly intuitive.

  

 

 

 

 

Leave to dry 

Dishes that are taken straight out of the dishwasher are sensitive because of the temperature, so they break more easily.

Allow the dishes to cool down for a few minutes before putting them away.

  

 

 

 

 

 

 

Unloading your machine 

Unload the machine from the bottom first in order to avoid water droplets falling onto the clean dishes. Never put away wet or moist dishes – water is a breeding ground for bacteria!

Before putting away dishes, don't forget to wash your hands!

 

 

 

 
  

Machine care

If available, the "maintenance wash" programme should be activated regularly (alternatively, use the "Intensive" or "Hygiene" programmes). This helps to break down grease, starch or protein build-up.

Minimum temperature during cleaning: 70 °C

 

 

 

 

Pay close attention 

Check the seals, filters, spray arms and basket wheels regularly for deposits and clean on a regular basis. 

Use a damp cloth or a brush to carefully remove dirt.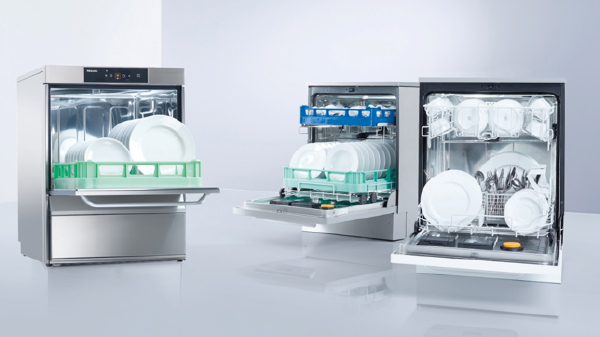 Our service
Miele Professional have a well-earned reputation for building high quality machines that provide consistent and reliable long-term service for the hospitality sector where costs and minimal downtime are key factors. Efficient, fast, programmable and easy to operate, all our dishwashers are designed to save space, energy and water use.
Contact us
We have a dishwasher range to cater for all types of business and any level of throughput. 
---
For further information contact us today by email or call us on 1300 731 411. 
---
27th April 2021