Duck, Fig and Roquefort Pizza with Garlic slices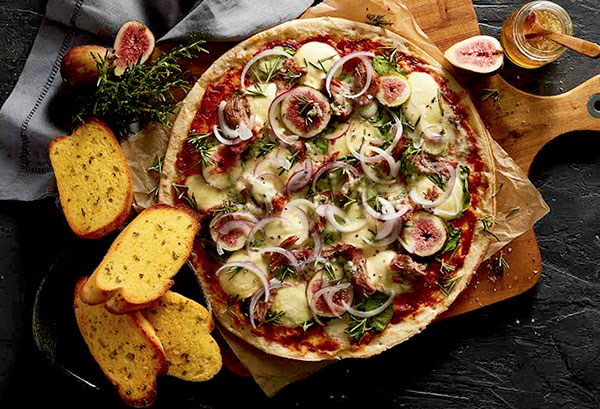 Looking for a new pizza to add to your takeaway menu?
Try this super comforting yet gourmet Duck, Fig and Roquefort Pizza with a couple of garlic slices.
---
Ingredients (Serves 1-2)
1 cup tomato pizza sauce

½ cup spinach, sliced

5-6 slices baby soft mozzarella

1 fresh fig, cut into discs

100g confit duck meat

1 tbsp Roquefort blue cheese

1 tsp rosemary leaves

6-10 slices red onion

 

 
Method
Preheat oven to 200 degrees.
Lay pizza base on a lined oven tray. Spread pizza sauce evenly across the base, top with spinach, then place mozzarella so that each slice will get some, repeat for the fig. Add chunks of duck and blue cheese across the pizza then season with salt and pepper.
Place in the oven to cook until cheese is melted and there is some crispiness.
Serve topped with rosemary sprigs and scattered red onion.
---
The Australian Garlic Bread Co. range is available frozen nationwide via distributors and includes:
---
---
See the full AGB Range here and contact your local distributor to place an order!
---
13th August 2020