Could your business benefit from an on-premise laundry?
High quality laundry process is something all hotels, restaurants and hospitality businesses should strive.
Whilst your laundry processes may currently be good, can you say they are great?
Shared items such as towels, bedding and napkins need to be cleaned hygienically with infection control guaranteed.  Due to sheer volumes of laundry, many businesses send their bedding and guest towels offsite, but this doesn't necessarily result in satisfaction with laundry cleanliness or the speed of the process. Moving laundry processes in-house could result in more control of the process, reduced cost, higher quality and faster turnover.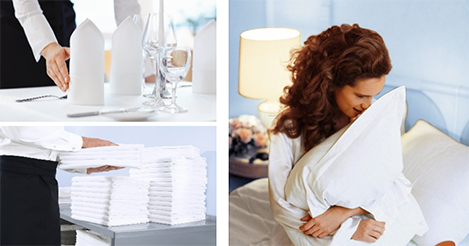 An on-premise laundry allows you to be hands-on in maintaining the extremely high standards your business demands, for example:
Ownership of the laundry means you can ensure quality and hygiene

Your linen stays on site, so you can manage it and potentially reduce the quantity of linens and towels that you need to buy.

You can instil quality values in your laundry staff

Reduce other quality issues such as slow room turnaround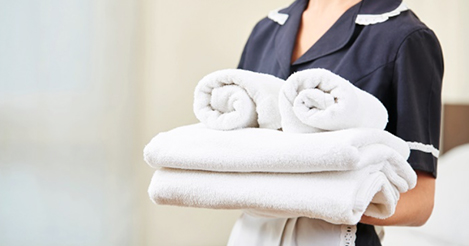 On-premise cost benefits
With all of the appliances, repairs, utility bills and additional staff required to run an on-site laundry, it may be common for businesses to think outsourcing is cheaper. Yet, many times when we help businesses forecast the equivalent cost of bringing laundry in-house, customers discover the potential financial benefits.
Choice of appliance is key to a cost effective on-site laundry. It is important that you choose a brand known for quality and longevity; you should be looking for stringent quality testing processes and a long lifespan to ensure you get your money's worth.
Equally, load capacities, energy ratings and water usage are other key cost factors to consider when choosing your machines.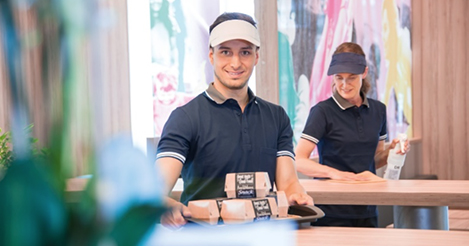 On-site means on-time
Moving your laundry on-premise can make you more productive and ensure that the sheets, towels and tablecloths arrive before your guests do. To ensure your on-site laundry runs like clockwork you need to think about the features of the appliances you put into it as well as their reliability record and service and maintenance terms.
The right washing and drying cycle times are critical. It is important that your machines offer a wide variety of cycle choices, so that different laundry items can all be handled as efficiently as possible and to the correct standards. Look for cycle customisations and shortcuts to ensure machines are used correctly and user errors avoided. Also, don't forget to also look into the reliability of your chosen appliance manufacturer. Fewer breakdowns will mean fewer delays to your laundry. Finally, ensure that you have the right aftercare contract to keep machine downtime caused by repairs to a minimum.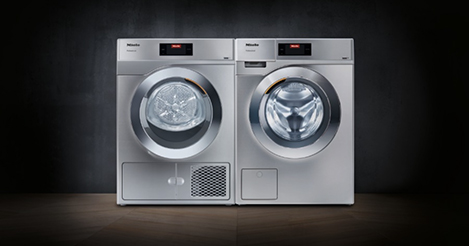 On-premise speed benefits
Lack of space is a key limiting factor in the development of on-site laundries; however, it can require less room than you think. Innovative machines help you maximise the space available with the minimum space requirement can be as little as 0.5m2.
In reality, this is probably the main challenge facing many of you. Space is at a premium in most businesses and of course, the more space you have for customers, the more profitable your business can be. Finding and making the best use of your on-site laundry space options is the right place to start. Specialist laundry equipment suppliers can help with site surveys and layout suggestions, creating laundry designs and specifying the best machines for the job. In terms of your choice of appliance, aiming for a high load capacity to space ratio is obviously key. Capacities and cycle times both affect the amount of laundry your available space can output, showing why your machine choice is critical.

Miele developed the Little Giants laundry range to cope with large loads despite having a relatively small footprint.
The new generation machines include innovative technologies for even greater economy, user convenience and flexibility. Extremely short cycle times means each load is washed and dried in as little as 95 minutes, with outstanding Miele quality evident in not only in the durability and low running costs of the Little Giants, but also in the excellent cleaning performance and the very gentle treatment of textiles, which surpass all demands placed on commercial laundry-care systems.
---
---
24th November 2020