Breakfast burger with a twist (and sriracha bacon)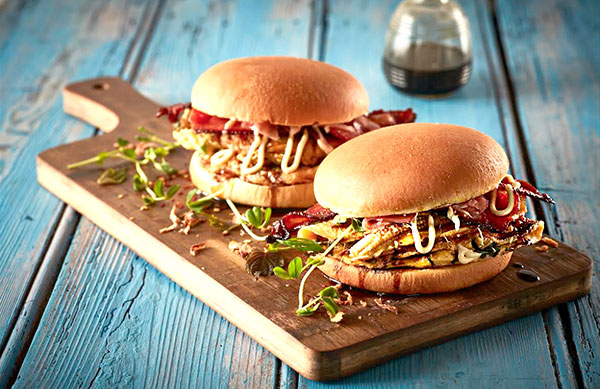 Burgers are more popular than ever right now, but have you considered adding a breakfast burger to your menu?
Tip Top Foodservice's Innovation Chef Mal Gill has put together a breakfast burger with a twist – a traditional egg foo yong in a not-so-traditional burger.
It's got sriracha bacon so you know it'll be delicious.
Perfect for grab-and-go and delivery, check out the full recipe:
---
Egg Foo Yong and Sriracha Bacon
Breakfast Burger on Milk Bun
---
(Serves 1)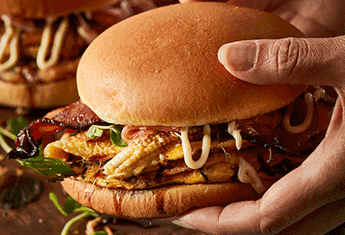 Ingredients
2 streaky bacon rashers

1 tsp brown sugar

1 tsp Sriracha

2 eggs

1 ½ tsp sesame oil

1 tsp soy

¼ cup bean shoots

4 leaves Thai Basil

3 shisso leaves, sliced

1 tsp cup sliced shallot

¼ cup green peas

½ cup vegetable oil
2 baby corn, sliced in half lengthways

1 tsp kecap manis

2 tsp crisp fried onions

3 slices pickled ginger

Kewpie mayo
Method
Preheat oven to 175 degrees.

Line an oven tray with foil, lay out bacon, spread Sriracha on the bacon then sprinkle with sugar. Place tray in oven, cook 15-20 mins until sugar has caramelised.

In bowl mix eggs, sesame, soy, bean shoots, Thai basil, shisso, shallots, peas and corn.

Heat non-stick saucepan to medium high heat, toast insides of the bun in the pan while it heats. Remove bun, add oil to pan, add egg mixture. Cook until golden and cooked through. While still warm, fold into quarters.

To build: Lay base of the bun on a plate, add egg foo yong, top with drizzle of kecap manis, fried onions, bacon and pickled ginger. Spread Kewpie on the toasted cheek of the lid and add to the burger sauce side down.
---
For more recipes like this head to 
https://www.tiptop-foodservice.com.au/all-recipes
---
28th July 2020