Miele Little Giants Giveaway - ends Sunday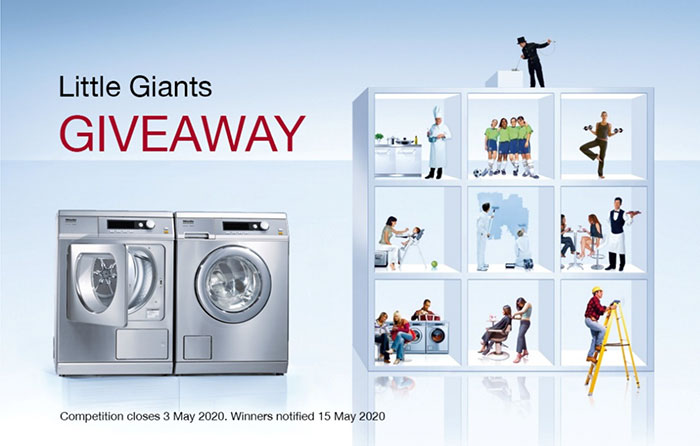 Win a Little Giants set and protect your community.
Together, we will get through these challenging times.
The coronavirus pandemic has taken a toll, directly and indirectly, on many businesses within our community. Care facilities, nursing homes, medical and educational facilities, non-profit organisations and small businesses have been affected and need to comply with strict hygiene codes now more than ever.
At Miele Professional, we always want to do our part to help our community. We understand that not everyone has access to tools that ensure impeccable hygiene and perfect disinfection. Miele Professional is giving away five Little Giants PW6065 washing machines and matching PT7136 tumble dryers.
Having the appropriate on-premise laundry equipment has never been more important. The Little Giants washing machines ensure perfect hygiene by killing bacteria and viruses with a range of thermal and chemo-thermal disinfection programmes for hygienic reprocessing. Famous for their short cycle times and mechanical durability, Little Giants deliver excellent results consistently.
---
---
For your chance to win a Little Giants washing machine and matching tumble dryer, tell us in 25 words or less how our machines can help you.
Register under one of the below categories:

Category 1
Category 2
Category 3
Category 4
Category 5
Childcare
or Aged Care
facilities
Pharmacy
or Medical
facilities
Small
businesses
Not for profit
Organisations
Other
businesses

---
---
Terms and conditions apply.  Competition closes 3 May 2020. Winners announced 15 May 2020.
See https://bit.ly/2W2xctP for further details. Prize machines are strictly for commercial application.
28th April 2020