Detpak & I am eco™ Coffee Origins™ Cup Gallery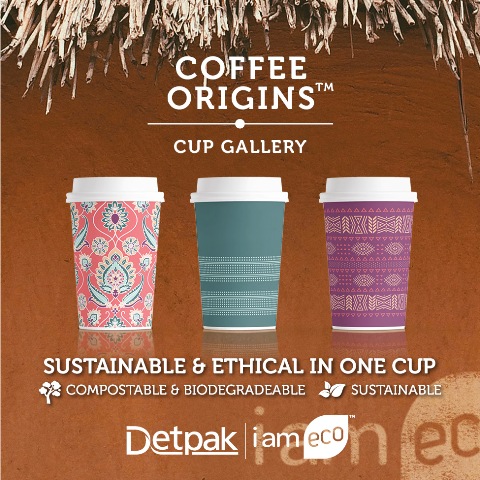 Sustainable and Ethical in one cup
The Detpak Coffee Origins™ Cup Gallery range has been expanded to include a range of compostable and biodegradable hot cups, with the goal of supporting social change using the power of coffee.
Detpak's vision for this range is to make a positive and sustainable impact in the lives of people in coffee-growing regions around the world. Five percent of sales from all cups in the Coffee Origins™ Cup Gallery are contributed to partner organisations. The first charity is Guatemalan-based Pueblo a Pueblo, which is focused on sustainable programs to improve the lives of people in coffee-growing communities.
Three new cup designs, lined with bioplastic (PLA) and featuring vivid images inspired by coffee-producing nations, have been added to the existing range of PE-lined cups. The new cup designs are Indonesia, Uganda and Ethiopia, with the imagery inspired by the architecture, textiles and traditions of those coffee-growing countries.
The beautifully-designed cups are not only unique to drink from, but each tell a story and enable the customer to become closer to the origin of the coffee itself. Now, with the inclusion of the compostable and biodegradable options in the range, the Coffee Origins™ offers a solution that is sustainable and ethical in one cup.
To learn more about the Coffee Origins™ Cup Gallery, visit http://www.detpak.com/coffeeorigins
August 10th 2017