Ali Currey Voumard to leave The Agrarian Kitchen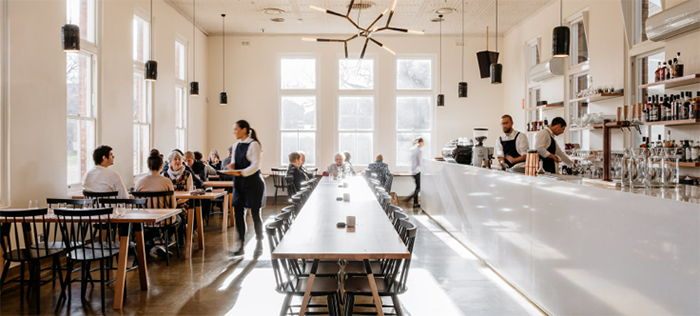 Tasmania's The Agrarian Kitchen is on the hunt for a new head chef after posting news that Ali Currey Voumard will run her final service at the two-hat restaurant on April 1.
"It is with a heavy heart that we bid farewell to our current head chef, Ali Currey-Voumard as she spreads her wings into the greater world," The restaurant posted the news on Instagram.
"She has built a formidable team, culture and reputation, taking our vision for what The Agrarian Kitchen Eatery should be and expanding upon it to make it better than we could have ever imagined."
Aged only 15, Currey-Voumard got her break working for Rodney Dunn, the co-owner of the Agrarian Kitchen when it was only a farm and cooking school.
She cut her culinary teeth in Melbourne including a stint working for Andrew McConnell before she returned to Tasmania to accept the offer of head chef at the newly relaunched Agrarian Kitchen Eatery in 2017.
Since its opening it has scooped numerous awards including being named last year's Good Food Guide Regional Restaurant of the Year. Currey-Voumard most recently won "Best New Talent" at Gourmet Traveller's Australian Restaurant Guide Awards.
The restaurant has made a call out for a new head chef on social media.
"At The Agrarian Kitchen Eatery, our chefs work with real ingredients over our wood-fired oven and grill, including locally reared rare breed animals and heritage fruit and vegetable varieties," it posted on Instagram.
"They greedily expand their knowledge of food to include cheese making, bread making, meat preservation and charcuterie, fermentation, whole animal butchery and much more. Our new head chef will foster a sense of family with their peers, treat every element of their work place with love and respect, understand the importance of laughing while they work. They will be creative, produce driven and adaptable - working with the seasons, not against them."
Sheridan Randall, 11th January 2019