New build convention centre for Novotel Twin Waters Resort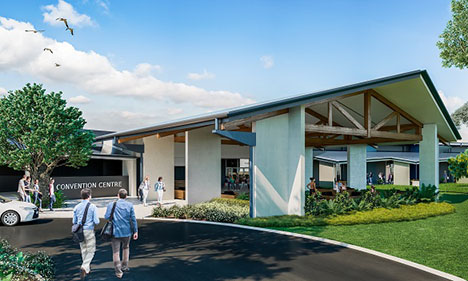 Following its $100 million purchase of the Novotel Twin Waters Resort in Queensland last month, The Shakespeare Property Group has announced it will also build a new, purpose-built convention centre for the Sunshine Coast.
The new build $8 million convention centre is slated to open in April 2019, located within Novotel Twin Water Resort. It will offer a choice of four meeting and event spaces across 1600sqm, catering for 2000 delegates theatre style or 1000 banquet style.
The convention centre has been designed to seamlessly attach to the Wandiny Pavillion, an existing conference space located on the site that can facilitate up to 1200 delegates theatre style taking the convention centre's overall capacity to 3400 people.
"We are very pleased to form a strategic alliance with our partners in Queensland to deliver the Sunshine Coast this much needed facility to capitalise on fresh opportunities in the business and events space," said Shakespeare Property Group CEO and executive director Yak Yong Quek.
"We are confident that further investment in infrastructure such as this will increase the capacity for the Sunshine Coast to attract significant events, conferences and exhibitions, with potential to cater to the domestic and international travel markets."
AccorHotels has been appointed as the operator for the new convention centre.
"AccorHotels are not just local hotel operators, but have strong experience in operating convention centres and premium meeting spaces at home and overseas," said AccorHotels vice president operations QLD/NT, Matt Young.
Young added that Novotel Twin Waters Resort was the number one conference facility for the AccorHotels group in Queensland and the Northern Territory last year.
"The strong performance of Novotel Twin Waters Resort as a conference destination is a powerful case in itself for this centre being built," he said. "In recent years, the resort has been attracting significant events, upwards of 500 delegates and generally over a number of days. A large percentage of clients are repeat business due to our expertise in service and hosting mid to large scale events. Of course having added capacity and new facilities will only help cement Novotel Twin Waters Resorts' status as the region's drawcard destination, and will enable us to seek out and attract new, events and business, including larger scale conferences, from as soon as Q2 of 2019."
Shakespeare Property Group are planning to invest a total of $10 million in upgrades to the resort and convention centre at Novotel Twin Waters Resort over the next couple of years.
Sheridan Randall, 12th October 2018