The Kiribilli Flat Table from Sebel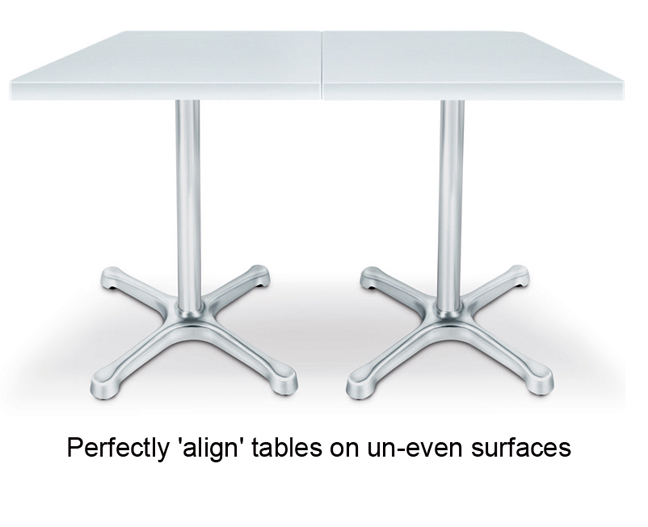 FLAT® technology is the No.1 solution for wobbly tables.
FLAT® engineers spent 6 years researching and developing the mechanism that instantly levels and stabilises any table. FLAT® is a remarkable levelling and stabilising technology. A series of interconnected actuators or feet, communicate the ground conditions via multi-lumen tubes to the FLAT® smart system. This results in constant stability for the table no matter how many times it is moved. All tables manufactured with FLAT® will find their level on any uneven surface instantly as applications load distributed perfectly over each foot.
Features:
Hard wearing four star cast iron base.

Wide diameter post for structural support.

Premium quality aluminum top plate to bear a range of tabletops.

Flat technology in base to ensure perfect table alignment for perfectly matched tables every time.

Flat technology adjusts to any ground surface -stablising in seconds.
 Options:
OPTION 1) Base Only (Height 720mm, Base Span 760mm, Base Spread 570mm, Weight 11.4kg, Finish - Black cast iron)

OPTION 2) Base + Rigid Edge Top (Height 745mm, Max size 900mm square, 1000mm round, Top 25mm, Colours - Laminex palette 10/10)

OPTION 3) Base + Eveneer Top (Height 745mm, Max size 900mm square, 1000mm round, Top 25mm, Colours - Natural, Ciabatta, Milkwood, Truffle, Aniseed)