87% of consumers love or like burgers – are they on your menu?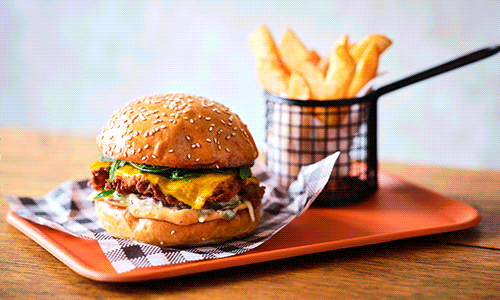 Burgers are more relevant than ever
Despite the pandemic, it's no surprise that burgers are one of Australia's most loved foods. Burgers rank 5th most popular cuisine ordered online. Burgers are still a popular menu choice with consumers across the country(2). 
Burgers re-vamped 
The humble hamburger has seen a re-vamp over the past few years. The new wave of burgers are a breed apart from their predecessors – grass-fed patties, golden brioche buns, house-made pickles, distinctive orange cheese and flavour to spare. Do you want fries with that? Of course you do.
On top of this, a growing number of consumers -- particularly millennials -- are craving new burger options in just about every way. Their most popular burger additions according to Datassential are beets, hummus, pesto, pico de gallo, waffle buns, gruyere cheese and teriyaki sauce(3).
Love for Burgers has seen them expand into new offerings for different dayparts. One occasion which has seen growth recently is breakfast where some of the new burger additions include – Bacon, egg, cheese, special relish and of course a brioche bun.
Whats NEW? 
With this Burger re-vamp in mind, AnchorFP has launched a NEW Anchor Hi-Melt Burger Slice. Every slice delivers a great melt on a generous size burger patty. Adding a mouth wateringly smooth, creamy texture and flavour to Gourmet Burgers.
NEW Anchor Hi-Melt Burger Slices are stagger stacked to save time and wastage with no prep and mess. With colour derived from natural ingredients, Anchor Hi-Melt Burger slices create a visual feast on burgers and sandwiches.
---
To find out more, visit anchorfp.com.au
---
Sources:(1&3) Datassentials Foodbytes Trendspotting // vol 88
(2) IBISWorld Fast Food and Takeaway Food Services in Australia, Specialized Report H4512, November 2020. 
(3) Globaldata Australia - The Future of Foodservice to 2025, May 2021
19th April 2022