Gingerbread Cupcakes with Cream Cheese Frosting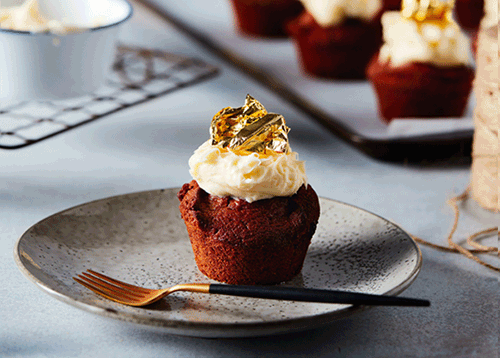 Try this moist and flavourful spiced gingerbread cupcake recipe with a tangy, sweet cream cheese frosting. The perfect eye-catching baked offering to brighten up your display cabinet in the lead-up to the festive season.
---
Gingerbread Cupcakes with Cream Cheese Frosting
---
Ingredients
Cake

100g Brown sugar

1 Egg

150g Honey

1 tsp Vanilla paste

170g Plain flour

½ tsp Baking powder

½ tsp Baking soda

1 tsp Cinnamon, ground

½ tsp Ginger, ground

½ tsp Nutmeg, ground

Icing

½ tsp Vanilla essence

¾ cup Icing sugar
Method
Gingerbread Cupcakes
Preheat oven to 180°C. Whisk Western Star Unsalted Butter and brown sugar in an electric mixer until pale and creamy.   
Add egg and mix until combined.
Stir in Anchor Blue Full Cream Milk, honey and vanilla paste.
Mix all remaining dry ingredients together in a separate bowl then add to butter mixture, stir on low speed until combined.
Evenly distribute the mixture into 10-12 patty pans.
Once baked, allow to cool prior to topping with cream cheese frosting. Add gold leaf (optional).


Cream Cheese Icing
Add all ingredients to electric mixer and w

hip until smooth and creamy.


Chef's Tip: Cream cheese frosting can be prepared the day prior and refrigerated.
2nd November 2021