Don't miss your chance to win your piz'za $60,000 … thanks to Anchor™ Food Professionals!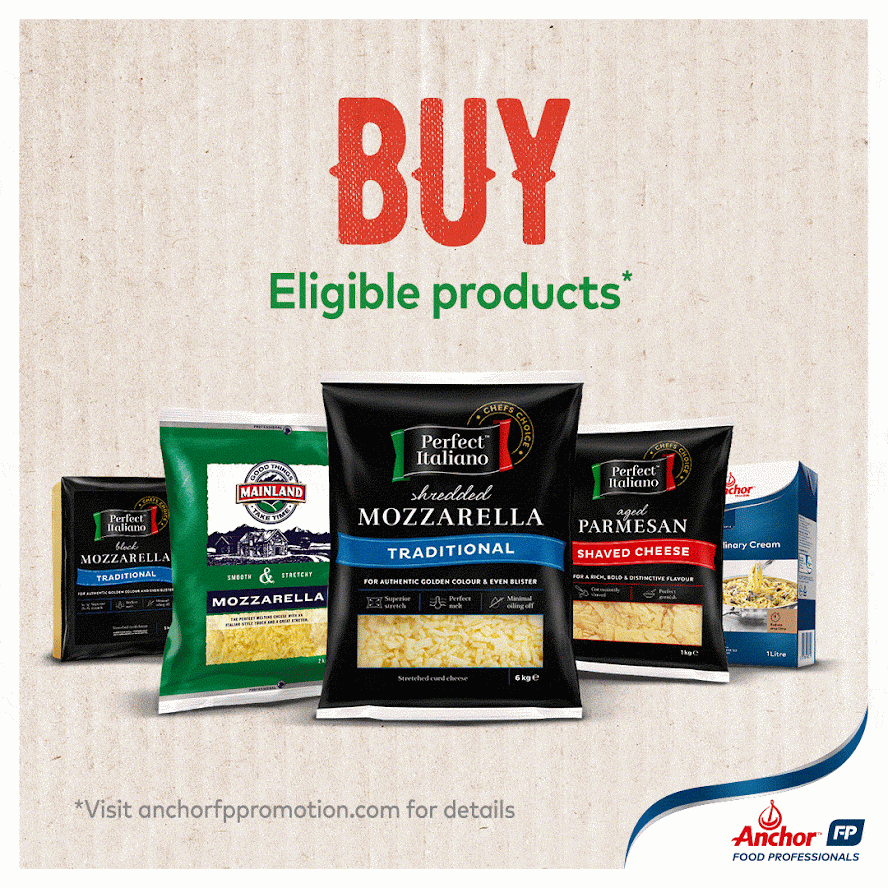 You still have a chance to win your piz'za $60,000 in Anchor™ Food Professionals' latest promotion – but you'll need to hurry, because entries close 30 September! 
For entry eligibility simply spend $200 or more in the one transaction across two participating products drawn from the extensive Anchor™ Food Professionals range, all of which are fantastic performers in the commercial kitchen and ideal ingredients when it comes to creating pizza, pasta and Italian style cuisine. Naturally these quality products are also versatile enough to suit a wide range of other cuisine styles – and their consistency of presentation, texture and taste will never let your dishes down!
You can try your luck any time up to 11.59pm on 30 September and enter up to four times during the promotional period – just make one new purchase of $200 or more of the participating products in one transaction per entry (maximum one entry per calendar week), then head over to anchorfppromotion.com and 'spin the pizza' for your shot at an instant win. The fabulous prize pool includes five Fonzarelli Arthur 2 Electric Scooters, the ideal delivery vehicle for pizza, pasta and more; ten Pizza Business Backs valued at $2,000 each; and 200 EFTPOS gift cards pre-loaded with $50 each.
Participating products are:
Perfect Italiano Ultra Mozzarella Shredded (6kg),

Perfect Italiano Traditional Mozzarella in Block (5kg) and Shredded (6kg and 2kg),

Perfect Italiano Pizza Plus cheese (2kg),

Perfect Italiano Parmesan in Shredded (1kg), Grated (1.5kg) and Shaved (1kg);

Mainland Mozzarella Shredded (2kg) and

Mainland Special Reserve Creamy Feta in both Block (2kg) and Cube (1.8kg); and

Anchor Culinary Cream (1kg) and

Anchor Extra Yield Culinary Cream (1kg).
So pick up $200 worth or more of any two of the above products in the one transaction and spin the virtual pizza while there's still a chance to grab yourself an instant win!
---
More information: www.anchorfppromotion.com
---
9th September 2021