Edgell makes it easy to find the best chip to give your business the edge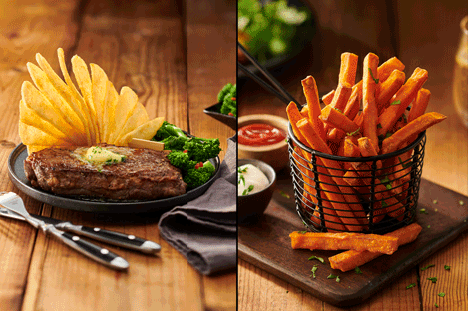 Chips are one of the most profitable items you can add to the menu, and thanks to Edgell it's easy to find the best chip to give your business the edge over the competition.
There are several considerations in choosing a quality chip for your business, such as hold time, taste and yield.
Profit and Yield:
Yield (which means how many chips it takes to fill up a cup or carton, or cover an empty space on a plate) varies depending on cut size – and is what drives profitability per serve. Choosing the chips with the cheapest cost per carton doesn't necessarily equal the best value. Length is critical when it comes to maximising your profit: the basic rule is the longer and straighter the chip, the higher the yield in comparison to short fat chips. Increasing yield means you can sell more serves of chips from each carton you buy, which means more profit for your business.  
Hold time:
Want to extend your chips' hold time? You might benefit from choosing a coated chip – the coating typically helps the chip stay hotter and crispier for longer, which is beneficial during those slower times of the day when you need chips to hold for longer to reduce wastage. Or if you need your chip to be transported from A to B via delivery or room service, the superior crunch and hold time offered by coated chips will ensure your customers receive their chips hotter and crunchier compared to an uncoated chip. Remember your customers value hot crunchy chips!  
Taste:
Coated chips are designed to increase hold time, yield, heat retention and crunch but they are also a fantastic way to increase flavour. Whether you choose Edgell's Beer Battered range, SupaCrunch range or Rosemary and Sea Salt Diamonds, coated chips really raise the bar on flavour.        
---
The extensive Edgell chips portfolio features the following ranges: Value, Trusted Originals, Perfect Performers and Specialty. They include such favourites as Edgell Supa Crunch, Beer Batter Chips, Sweet Potato Chips and Edgell Crispy Flats – all of which deliver superior crunch, taste and flavour which can create a real buzz around your menu and ensure that all-important repeat business.
---
Remember that most customers won't bother to tell you they're disappointed with your chips – they simply won't come back and you'll lose them to the competition.
So don't underestimate the importance of finding the right chip for your menu … it's a sure-fire way to give your business the Edgell edge!
More information: www.simplotfoodservice.com.au
20th July 2021