If only our "Silly Season" could be a "Sensational, Stress-Free Season" - Part 1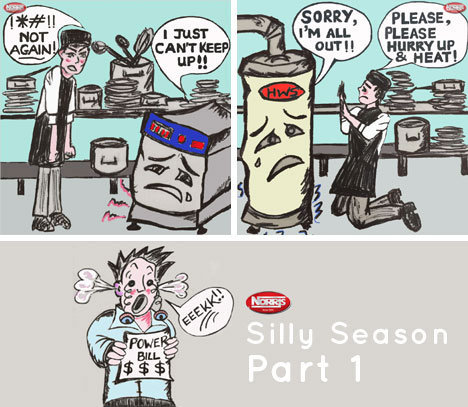 We've talked to people in hospitality a LOT since 1954. It's fair to say we've heard a huge variety of "if only" comments over the years. Here are some of the most common:
"If only there was a dishwasher that connected to cold water, I'd never have to run out of hot water again".
"If only my hot water system had a  limitless supply of hot water, our kitchen crew would never have to hand wash plates again"
"If only my power bill could be cut in half, I might have more money to invest in growing my business or developing my staff"
"If only I could afford to buy one of these machines if anyone ever built one…"
The common theme is lower power bills and financial strain, less downtime and interruption, more time and money freed to improve the customer and staff experience.
Ta-da…let Norris be your Santa this year! We have the machines you need at a price you can afford. And we reckon that no one else can answer all these wishes the way we can.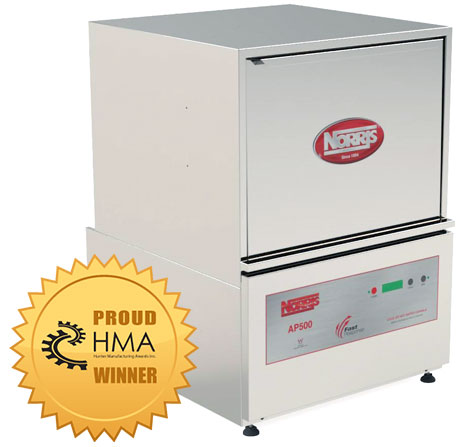 The AP500 is an award-winning machine that works best on a COLD WATER ONLY connection!
Theoretically, you could throw away your Hot Water System! Why have water heating up all day and night when you only need it when you use your machine? And why lose all the heat in transit from the HWS to the machine and have to wait while it comes up to compliant temperature? The AP500 uses only the energy it needs, when it needs it, saving you up to 50% off your power bill!
On top of that, it's fast – back to back 1 minute wash cycles and always ready once operational. Click here to read more amazing features and why we recently won the HMA "Excellence in Product Design" Award.

And why blow this month's cash budget when you can use the power savings to buy through our Rent To Own program – the AP could be in your kitchen for as little as $36.60 +GST per week. 
Call our Kitchen Advisory team on 1800 803 569 to talk through the best options for your operation – and how Norris can help make your Christmas truly jolly!
Tune in next month for part 2 of "Solving the Silly Season Blues"…
22nd November 2018