Norris takes out "Excellence in Product Design" Award
On Friday, October 19 2018, Norris Industries was announced as winner of the "Excellence in Product Design" Award at the Hunter Manufacturing Awards. The award came out of our commitment to completely change the way a commercial dishwasher supports the busy work environment that is the Australian commercial kitchen.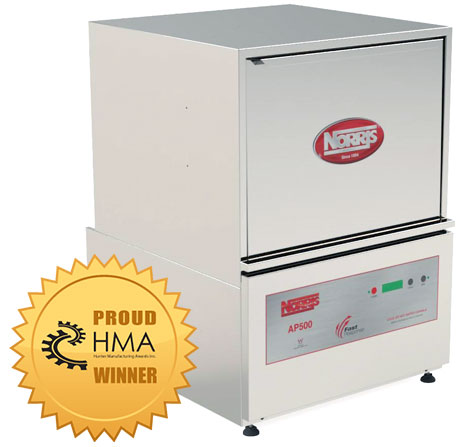 Norris Industries has been building and supplying reliable commercial glass and dishwashers to the hospitality industry for over sixty years. 
Our focus is built-to-last, reliable machines with lower energy consumption, three important things to any good hospitality operator.
Helping busy operators save over 50% a year in power­
We wanted to create a range that's lightning fast, efficient on power and only needs connecting to COLD WATER. The judges at the Hunter Manufacturing Awards and the Engineers at the University of Newcastle Australia (Newcastle Institute for Energy and Resources) agree that, with the AP500, we've achieved that!
Once operational, the AP Series machines are always ready and your kitchen crew will NEVER run out of hot water for the dishwasher again. 
The AP Series machines work anywhere with electricity, cold water and a drain. We say nothing cleans better or faster, with less stress on the hot water supply and on kitchen staff (and the budget!), than the new Norris AP "Fast response" series.
What the University Engineers said about the AP500
"The operating system in the Norris AP500 as tested can use up to 50% less electricity compared to the operating system of previous model, Norris Cafemate".
What the HMA Judges said about the AP500

"It is evident that the quality of product design applied to the AP500 Dishwasher is not skin deep but rather the quality of the unit from a whole of life approach…Norris have committed to gathering fault data on failures of their previous designs and made serious efforts at looking for root cause analysis… One key metric was 50% savings on power consumption without reducing the standard of performance as a result of clever thinking. Norris has also invested in Academic research to refine the details of their new technology and provide credible evidence to their market on their claims of energy efficiency".
The savings in power for a hard working kitchen could be over $1500 per year!
Let our Kitchen Advisory Team take you through our Energy Consumption Calculation Exercise (ECCE) and tell you how much YOU could save!
---
Free call 1800 803 569 or visit our website www.norris.com.au to view more details on the AP Series machines, our Rent to Own Program and our other Norris commercial dishwashers.
---
23rd October 2018