The 6-rack Digital Bradley Smoker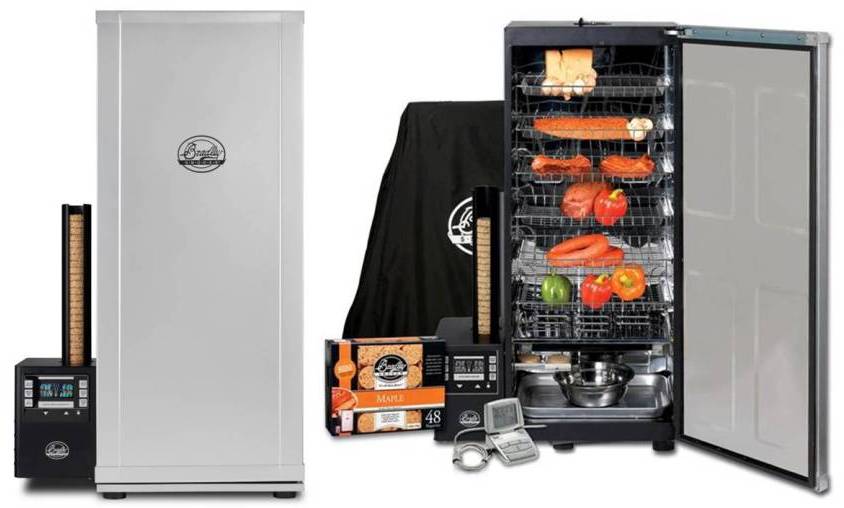 The Bradley Smoker is a unique smoke house, sold complete with its accompanying smoke generator, in which flavour bisquettes are burned for 20 minutes each so that the temperature does not fluctuate, thus eliminating the high temperature gases, acids and resins that can distort the flavour of smoked food. Our bisquettes come in a range of flavours allowing you to choose the flavour that best suits your dish; and are available in boxes of 12,48 and 120, the 120 boxes are a great size for commercial use. The Bradley Smoker makes clean tasting food without any aftertaste. While other smokers need to be tended constantly, the Bradley Smoker automatically produces clean, cool smoke for up to 8 hours safely and without intervention.
Additionally, using the independently controlled internal heating element the Bradley Smoker will also hot smoke, or may be used simply as a slow cooker or slow roasting oven. The low temperature cooking environment is perfect for any smoking project and the infra red heater source is also particularly well- suited for drying fruits. The benefits of digital technology allow you complete control of temperature and time, so you can decide how much smoke you want, how long your food is going to be smoked for, and at what temperature. For your convenience we also have a 4 rack digital and a countertop 2 rack available.
Locking in the flavour that smoking brings, the Bradley Digital Smokers offer an easier and better way to automatically roast, smoke and BBQ! As used by some of Australia's top restaurants!
Trade pricing applies to hospitality customers. Contact us today!
Check out our website www.bradleysmoker.com.au for extra product information, recipes and more!
Downloads