Create the juiciest fried chicken with Henny Penny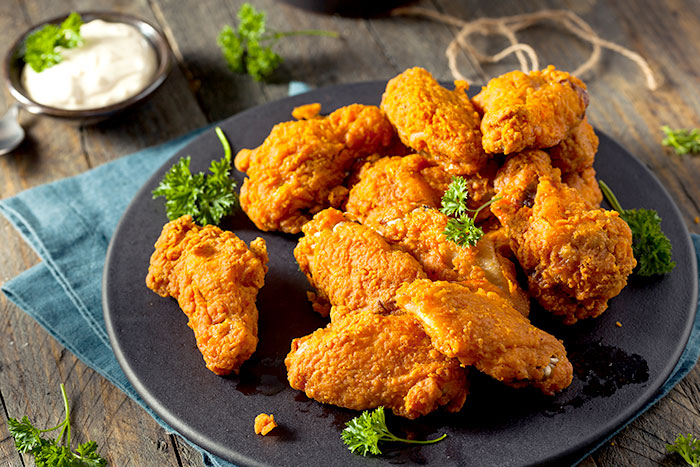 Fried chicken is the latest big trend in food.
From traditional American style fried chicken with fries and gravy, through to the newest taste sensation of Japanese inspired Karaage Chicken with wasabi mayonnaise and the crispiest Korean fried Chicken drizzled in sweet chilli sauce!
J.L. Lennard is the exclusive distributor for Henny Penny. Henny Penny built the world's first pressure fryer in 1956. Since then, Henny Penny has been an innovator in all things frying, food holding, food merchandising and chicken cooking.
Ayrking is the ultimate in breading and marinating technology. The AyrKing range of Blender, breader and sifters ensures that your breading is consistent and your chicken is coated evenly.
To get started on preparing the juiciest fried chicken, Henny Penny and AyrKing have the following solutions:
  


Henny Penny Pressure Fryer – PFE500

---

The Henny Penny Pressure Fryer, first developed by Henny Penny in 1956, is the original fried chicken cooker. Pressure frying cooks food under pressure which locks in the juices, uses less oil and cooks at a lower temperature and for a shorter time. The Henny Penny Pressure Fryer is equipped with an electronic control panel with countdown timers and an integrated oil filtering system. The fry pot also comes with a seven year warranty as well as J.L. Lennard's twelve months parts and labour warranty.



Henny Penny Heated Holding Cabinets

---

 

The Henny Penny range of heated holding cabinets is designed with maintaining quality and the longevity of your freshly cooked fried chicken. Henny Penny Heated holding cabinets feature dual blower motors which circulate humid air evenly throughout the cabinet for ultimate holding conditions. The Smart Hold range also feature adjustable humidity controls for more precise holding conditions. The range features individually programmed shelves with countdown timers. The range comes in full and half size along with solid and glass door options.
  

---

Henny Penny Open Fryers are the ultimate frying workhorse. The Henny Penny range of Open Fryers are available in multiple well configurations including split well options for maximum flexibility, digital control panel including countdown timers and a complete oil management system including hands free filtering. Henny Penny open fryers come with a seven year fry pot warranty.
 

 

---

The AyrKing Blender/Breader/Sifter ensures that your breading mix is thoroughly blended to ensure greater consistency and product quality. The Sifter function cleans and filters your breading, thus extending the life of the breading and maintaining food safety.

Breading your chicken can be done at the table before loading into the Henny Penny Pressure Fryer. The optional drumroller can automate your breading process allowing for greater consistency and efficiency.
---
---
16th November 2023