Revolutionising Cooking: Harnessing the Advantages of Induction Technology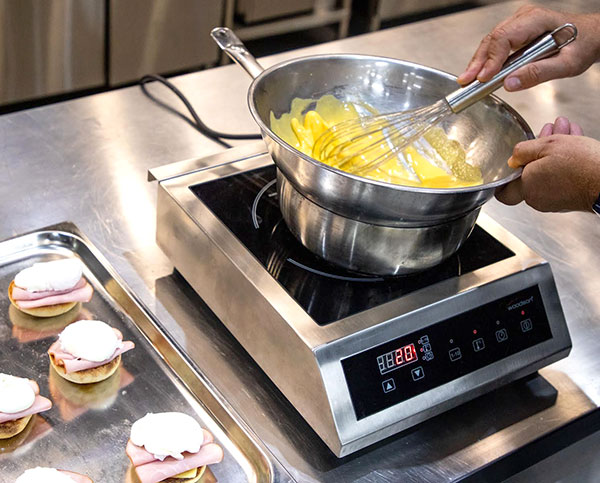 The Benefits of Induction Cooking
Induction cooktops offer rapid cooking, high energy efficiency, and simple cleaning. Quality, commercial induction cooktops paired with the correct pans allow the cookware to become the heating element. And with steady heat across the bottom of the pan, troublesome hot spots are eliminated, leading to consistent cooking results. Since the pan is the only hot element, if it is removed there are no other sources which generate or disperse heat in the kitchen.

Giorik Induction Woks & Boiling Tops
Featuring a glass-ceramic cooking surface with independently controlled zones. Rapid heating is generated by the contact between the cooking surface and induction specific cooking pan. Heat is directly generated in the cooking pan, resulting in zero heat loss from the cooking surface. This reduces cooking times while maintaining a cooler working environment. Featuring smart automatic shutoff when the pan is removed from the cooktop.
Independent temperature regulation via 6 position selector and LED lights to monitor the correct operation of the appliance.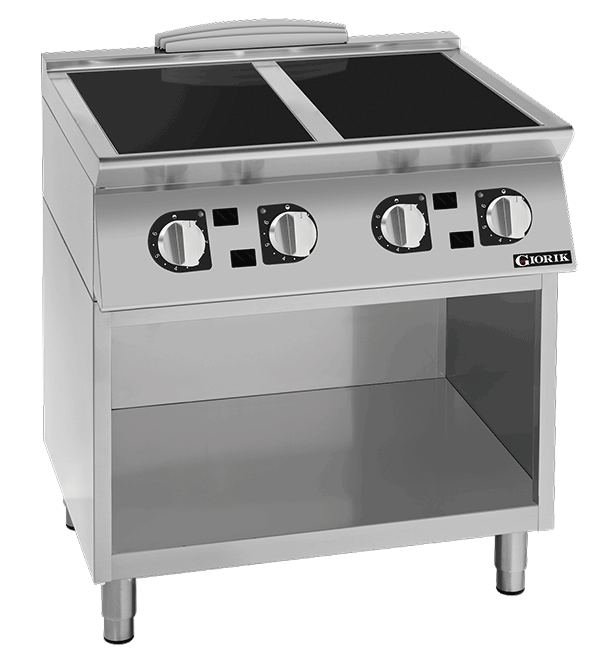 Giorik Induction Woks
Featuring a 5.4kW, Ø300mm cooking zone the Induction wok is available as countertop or complete with open base. Optional doors available for open base to enclose storage. Induction specific compatible woks and wok ring set sold separately.


Giorik Induction Boiling Tops
Available as 2 or 4 zone, countertop or complete with open base units in either 700 and 900 series. Optional doors available for open base to enclose storage.
(pictures to go here)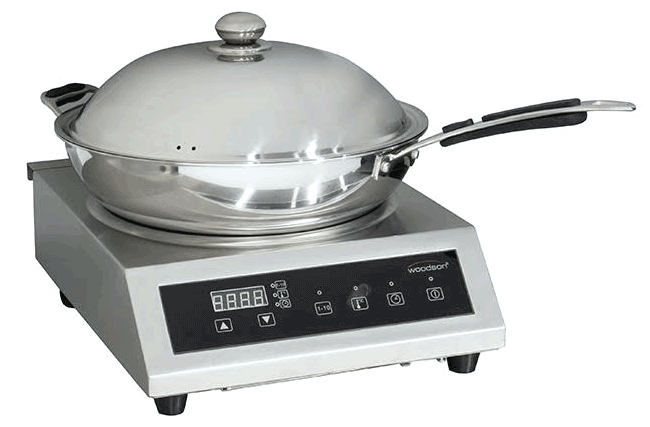 Woodson Induction Cook Tops
Woodson single hob models offer an energy efficient commercial cooktop with a high impact SCHOTT CERAN glass ceramic top. Minimising transferable heat around the unit allows for the heat to directly transmit to pots and pans, eliminating the risk of potential burns.
Both cooktop's and wok bowls are equipped with a clear LED display for power setting, temperature and time. The choice of precise power settings from 0-10 in single digit increments or temperature control from 60°C – 240°C and timer control from 1-180 minutes provides extreme flexibility to the user. Additional features include, audio alert after timed cooking, whereby unit transitions into standby mode, integral replaceable grease filters to ensure cleaner and cooler air intake and ducted twin integral cooling fans helping keep electronics cool during high demand.


---
Explore the diverse Stoddart induction range today or reach out via email at  info@stoddart.com.au to discover a new era of cooking technology.
---
28th November 2023