Will we see you there in August?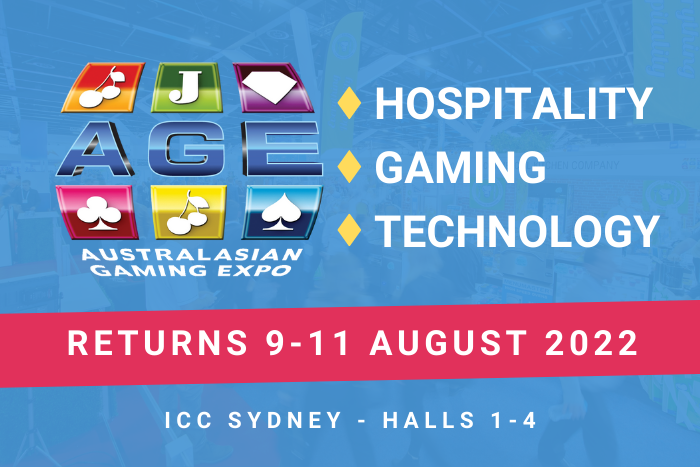 The Australasian Gaming Expo (AGE) marked its 30th year in 2019, with a record number of delegates attending the milestone celebration.
Year on year, since 1990, the AGE has drawn growing domestic and international interest.
Although disappointing that government health orders prevented the AGE from proceeding in 2020 and 2021, the organisers are looking forward to holding the event again in 2022.
The AGE allows exhibitors to present to venues a range of innovative goods and services that will expand and improve their offerings.
Everything a venue could need is on display, from gaming machines to commercial kitchens, venue management software, flooring, waste management, fragrance and more.
The AGE is the one hospitality-focused trade event that addresses all venue requirements.
So, what does the organiser forecast for the Australasian Gaming Expo when it returns in 2022?
Consumer demand for innovation is expected to result in new leading-edge hospitality and leisure-focused products and services.

An exciting range of new products and services from exhibitors that are looking to expand into the broader hospitality sector.

A fresh new look for the event with more exhibitors moving towards custom-built exhibition stands.


"I expect the next AGE to be one of the best on record due to the pent-up demand for new products and improved services for venues," said Sabina Ziolkowski, Manager, Operations and Marketing for the AGE.
"Thirty successful years of the AGE reflects the strength of the Hospitality and Gaming Industry in Australia," said Ziolkowski, "The event will continue to grow, and we acknowledge the exhibitors and visitors for their contribution".
---
The Australasian Gaming Expo will return to ICC Sydney from 9-11 August 2022. Keep up to date with the event at www.austgamingexpo.com.
---
5th May 2022