3 reasons why the NEW Praise Mayo is a must-have in every kitchen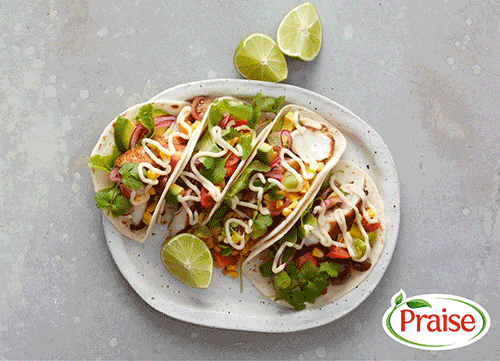 What does a Spicy Tuna Handroll, Mexican Street Corn and a Waldorf Salad have in common?
Well on the surface, not much, but a key ingredient in all three is a good classic mayonnaise.
On its own, mayonnaise is neutral on the palate, allowing it to take on the characteristics of whatever you add to it, making it a workhorse in the kitchen.
Here are three reasons why you'll find mayonnaise in every Chef's kitchen.
1. Praise Mayo is versatile
Whether it's used as the base for a salad, a condiment on meat or fish, a burger sauce, or a dip for finger food, mayo is one of the most hard-working ingredients around.

2. Praise Mayo is the perfect flavour base
With its neutral flavour and smooth consistency, mayonnaise pairs perfectly with so many ingredients to create a host of delicious sauces. Whilst some the most well-known examples include Tartare, Remoulade and Aioli, chefs are also experimenting with more contemporary pairings like Lime and Wasabi Mayo, Chimichurri Mayo and Truffle Mayo, elevating burgers and sandwiches everywhere to gourmet status.

3. Praise Mayo is a functional ingredient
Mayo is a magic ingredient when creating a host of common dishes. Beyond its most obvious applications, mayonnaise has many other uses in the kitchen. Coating meat or fish in a thin layer of mayonnaise before crumbing, yields great results (and taste). Brushing a little mayo on lean protein like fish and chicken also keeps it from sticking to your grill. Mayonnaise can also be used as an alternative to butter to thicken seafood sauces, and as a binder for things like crab cakes.
With so many culinary uses, mayonnaise has earned its place in every kitchen.
Praise has just released its new and improved Praise Classic Mayo range. Tested and given the tick of approval by independent Aussie chefs, the latest recipe contains no artificial colours or preservatives, and is made from fresh, free-range eggs, resulting in a smooth and creamy product. With a neutral taste profile, it provides the perfect base for chefs who wish to add their own flavour twist.
The range of Praise mayonnaises includes the Classic 21kg; Classic 3kg; Whole Egg 3.5kg and 99% Fat Free 3.5kg.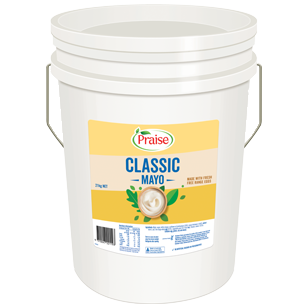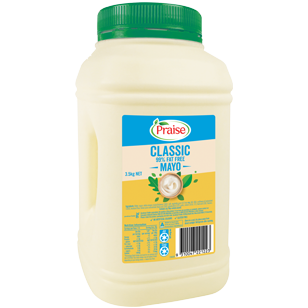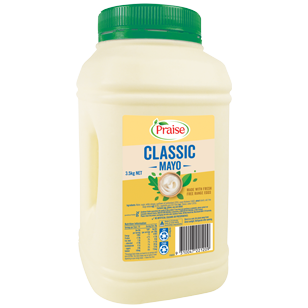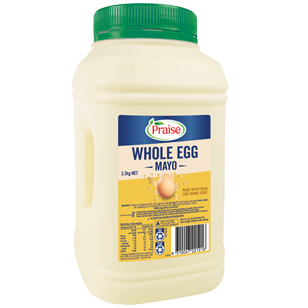 ---
---
31sr March 2022