Invest in reliable equipment from American Range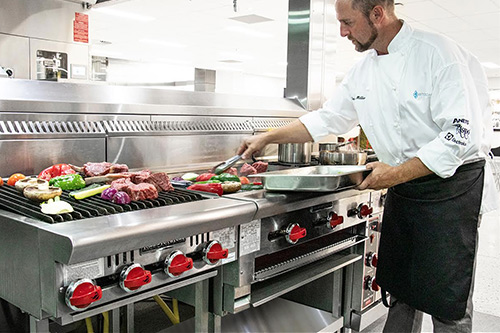 American Range modular cooking equipment is a great investment for top performance, reliability, and peace of mind for your daily operations.

What makes American Range more reliable?
American Range equipment is constructed from stainless steel, and cast iron is used for the boiling tops and char grills. The griddles feature a highly polished 19mm steel griddle plate.
The efficient "Cirsonic" gas burners have been specifically designed to ensure that pilot light blockages do not occur.
The reversible cast iron burners on the burner ranges are easy to remove for cleaning and maintenance.
All the stainless-steel doors on the American Range ovens can be removed for easy cleaning.
The components, including operational knobs and door hinges, are constructed to the highest standard to prevent deterioration and breakage.



The American Range equipment range includes static oven ranges in 24", 36" and 60" sizes with a range of configurations to suit your unique cooking requirements. The static ovens in the 36" can be replaced with 'Innovection™ ovens' - offering a faster cook time from the air distribution system inside the oven chamber.
Heavy duty boiling tops, griddles, char grills, griddle/salamander combination and fryers are also part of the range in a range of sizes.
View the American Range products online at https://stoddart.com.au/american-range-commercial-cooking-equipment
---
View the full American Range at Stoddart
---
19th August 2021