3 Reasons why frozen is taking over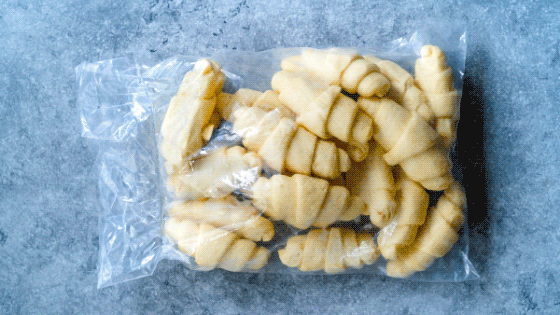 The perceptions of fresh and frozen food are changing.
And fast.
Offering an alternative to baking from scratch daily, this category of baked goods has essentially facilitated a merging of the virtues of both fresh and frozen food.
While par-baked and ready to prove products are essentially frozen food because the baking process is completed on-site they are still classified as being prepared in-house. As such, operators can rightfully promote these goods as being freshly baked in-house.
1. The bottom-line benefits of frozen foods
Today, the foodservice industry is as challenging as ever and savvy operators need to be leveraging any competitive advantage they can get their flour-covered hands on. Legitimate production efficiencies and labour cost savings can be realised through the utilisation of par-baked and ready to prove products.
Using par-baked and frozen goods from a trusted supplier can help chefs, bakers and business owners to cut costs and boost profits. If you are not utilising these options, you can bet that your competitors are.
2. Quality you can control
An added benefit of partnering with a frozen food supplier for par-baked and ready to prove products is the critical matter of quality control. Because these products are being created in a stringently monitored production environment, the emphasis is firmly around quality control.
3. Addressing food wastage
Beyond the obvious downsides of businesses losing money by throwing away unsold products that have reached their expiry date, there is a broader, environmental concern at play here. This wanton wastage of food is putting immense pressure on our environment. There is simply too much waste produce being dumped, to the point where charity organisations are sometimes turning down this nearly expired food as the quantity is more than they can pass on.
Frozen foods offer a longer shelf life, while also enabling foodservice businesses to stock a broader range of products with less fear of increasing wastage. This also allows businesses to better cater to the expanding tastes of consumers. Today's consumer has developed a penchant for experimenting and expanding their palate – a desire that can be better fulfilled with frozen food products.
The line between fresh and frozen food is now blurred, and both consumers and foodservice businesses stand to benefit. Are you ready to embrace the change?
For more information in regards to our Frozen products
please visit our website

or alternatively, contact us via email at
info@bakersmaison.com.au
29th July 2021