Captain's Catch Seafood Basket a time-saving portion controlled solution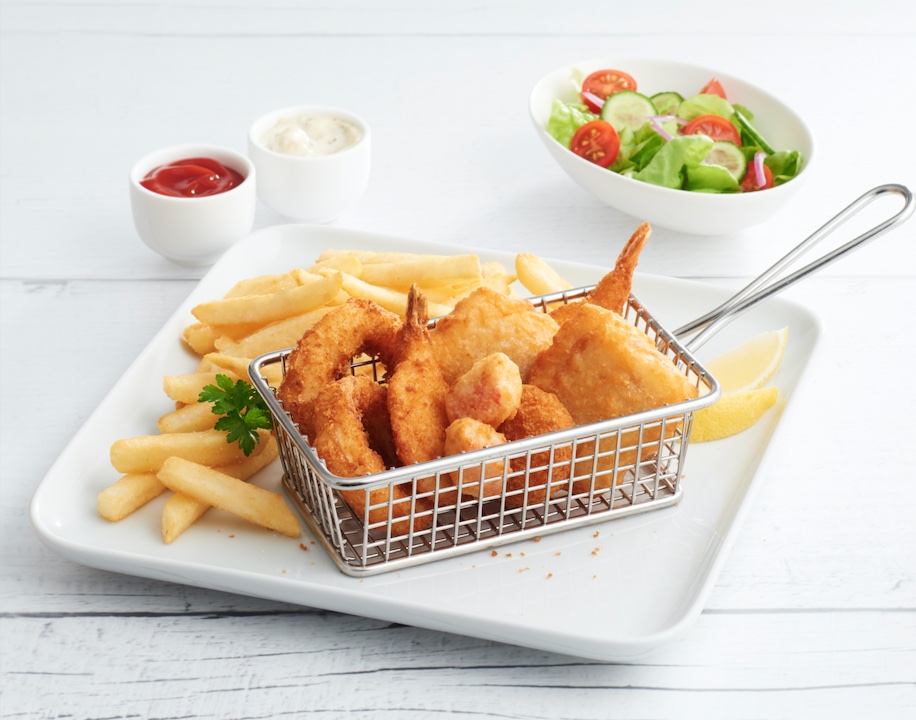 Want to serve your customers their favourite seafood in an attractive seafood/fisherman's basket style combination while minimising your time and labour costs? Captain's Catch Seafood Basket is the perfect choice for foodservice professionals seeking a convenient, time-saving, portion controlled solution.
Featuring nine consistently-sized portions of quality seafood coated in crispy Tempura batter and crunchy golden crumb, Captain's Catch Seafood Basket is ideal for pubs, clubs, takeaways, roadhouses, caterers, health/aged care and more.
All your customers' favourites come in the one bag with only minimal preparation required – simply cook from frozen and serve. Designed to save you time and labour costs while also minimising waste, Captain's Catch Seafood Basket delivers a great seafood/fish-to-coating ratio, is free of palm oil and has a frozen shelf life of 540 days.
Each Captain's Catch Seafood Basket contains:
2 pieces of 45g Tempura Crispy Battered Alaskan Pollock MSC Natural Fish Fillets – whole fish fillets ideal for sharing
2 pieces of 22.5g Golden Crumbed Prawn Cutlets
2 pieces of 21g Panko Crumbed Natural Squid Rings
1 piece of 22g Golden Crumbed Scallop Bite – large portions made with 100% scallop, not surimi
and 2 pieces of 12g Tempura Crispy Battered Seafood Bites
More information: www.simplotfoodservice.com.au/brand/captains-catch
13th July 2021