I&J offers Salt and Pepper Squid in your choice of two terrific varieties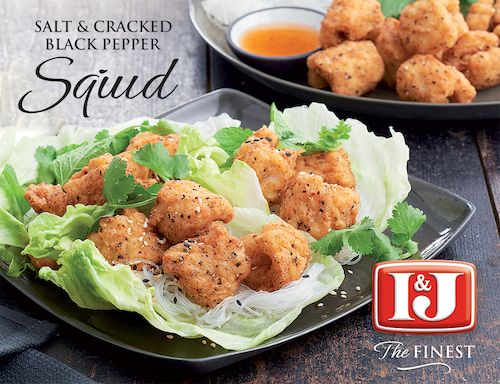 I&J makes it easy to take advantage of the Australian public's ongoing love affair with seafood, by providing convenient menu solutions which are sure to keep customers coming back while also reducing your back of house workload.
Made from tender hand-cut Bartramii squid paired with a classic salt and pepper coating, I&J Salt & Pepper Squid boasts terrific versatility – you can serve it as takeaway treat, entrée or main meal and it's equally ideal for finger food platters, snacking plates and seafood baskets.
And for those venues looking for a 'step up' premium squid, I&J Salt and Cracked Black Pepper Squid offers convenience without sacrificing quality. It features the same tender hand-cut Bartramii, encased in a premium coating of cracked black pepper and salt to evoke a 'from-scratch' appearance – with visible flecks of black pepper to enhance both presentation and flavour.
The squid in both varieties has been 'pineapple cut' then sliced by hand in the classic style, which is not only visually appealing but also tenderises the flesh and delivers superior batter adherence. This ensures the coating retains its flavour and won't flake off when placed in the deep fryer.
Both products are terrific time and labour saving solutions which can be ready to serve in just three minutes from frozen, are portion controlled to eliminate wastage, and have a frozen shelf life of up to 18 months.
More information: www.simplotfoodservice.com.au
13th April 2021