Giorik Premium Savings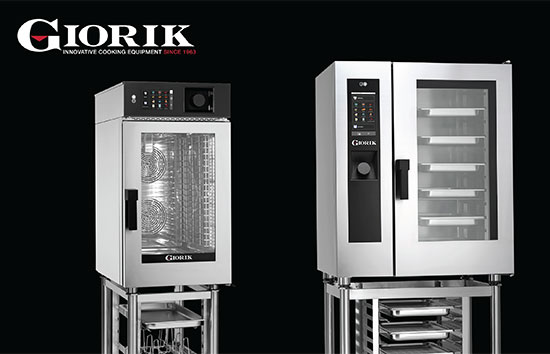 More than ever, business owners are demanding the best performance from their combi ovens. 
Increased operating costs, utility bills and rental costs are putting a lot of pressure onto food service venues.
So if you had a high-performance combi oven that saves time, space, energy, and water, would that be of interest?
The Giorik Premium oven range – Steambox Evolution and Kore combi ovens - achieves just that!
---
How do Giorik Premium combi ovens save time?
---
 

Giorik Steambox Evolution and Kore combi ovens save time and labour costs with the RecipeTuner. This unique touch screen interface allows the user to modify, personalise and pre-set any created programs with ease.

The EasyService Rack Control in the Premium oven range also enables different dishes to be cooked at the same time at various levels, which can then be served at the same time. 
---
How do Giorik Premium combi ovens save space?
---
 

Space saving is achieved with the Giorik Kore combi ovens, which is the world's first 519mm wide compact combi oven with a boiler!   

This means you still get the high-quality cooking results of a large oven, but in a much smaller footprint.

The Kore is available in 6 x 1/1GN and 10 x 1/1GN size, with electric and gas options.
---
How do Giorik Premium combi ovens save energy?
---
 

Energy savings are achieved in the Steambox Evolution and Kore combi ovens, thanks to the inclusion of a highly efficient boiler that uses significantly less energy than other conventional ovens.

The boiler is considerably smaller than those in other combi ovens on the market, which allows the boiler to heat up faster and generate steam more efficiently.
---
How do Giorik Premium combi ovens save water?
---
 

The smaller, high efficiency boiler that saves energy in the Steambox Evolution and the Kore also saves water, in conjunction with the complimentary steam technologies.

Optimisation of the steam inside the chamber results in lower water usage, as the Steam Tuner ensures the exact quantity of steam is generated for the specific product being cooked.

Water savings are also achieved during the cleaning cycle, with both models using a Closed Circuit system which uses the minimum amount of water necessary to clean the cooking chamber.
---
Contact Stoddart to arrange a complimentary Giorik Combi Oven demonstration. Call 1300 79 1954 or email info@stoddart.com.au today!
---
25th February 2021