Create the perfect golden crust with Dairymont's NEW Grated Parmesan Blend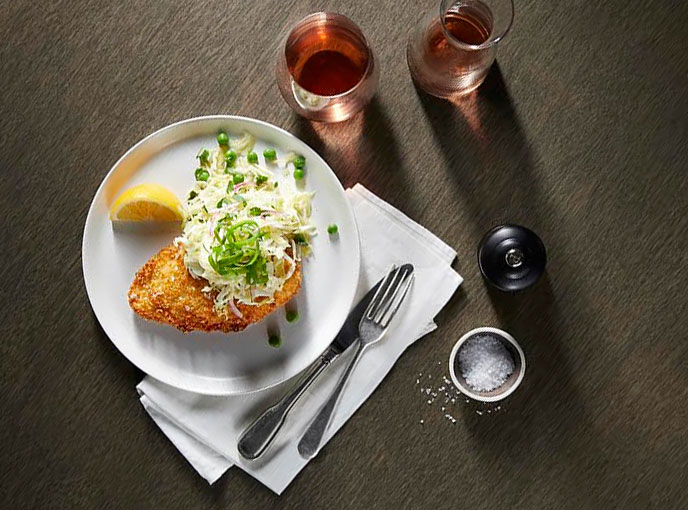 Enjoy the great taste of Dairymont Parmesan Cheese
Australian-made, our grated parmesan blend is suitable for cooking application, and can be used in crumbed meats, and to help thicken sauces.
Dairymont shaved parmesan is a perfect addition to help enhance the flavours of pasta, pizza and salad!
Try this Parmesan Crusted Chicken Schnitzel recipe with the NEW Dairymont Grated Parmesan Blend to create the perfect golden crust: 
---

Parmesan Crusted Chicken Schnitzel and Zesty Italian Slaw


---
Serves 4  |  Prep time 10 mins  |  Cook time 15 mins


Ingredients



2 large chicken breasts, skin off, halved horizontally

salt and pepper to taste

½ cup plain flour

1 egg, lightly beaten

2 tablespoons milk

1 ½ cups breadcrumbs or panko crumbs

½ cup Dairymont Grated Parmesan Blend
1/3 cup extra virgin olive oil

Slaw

1/3 cup frozen peas

500g white cabbage, finely shredded

1 lemon

1 tablespoon white wine vinegar

Salt and pepper, to taste

2 tablespoons extra virgin olive oil

1/3 cup Dairymont Shaved Parmesan

½ cup parsley leaves, roughly chopped

½ red onion, finely sliced


Dairymont
Grated Parmesan Blend

 
Method
Season the flour with salt and pepper on a dinner size plate. Mix the egg and milk 

together in a shallow dish. Combine breadcrumbs and grated parmesan blend together in a separate shallow bowl and season with a pinch of pepper.

Plunge peas into boiling salted water for 2 minutes, refresh in ice cold water to cool 

then strain and set aside.

Lightly dust each chicken fillet in flour then dip through the egg wash mix, followed 

by the crumbs. Coat generously, shake off any excess mix and transfer to a large 

plate.

Heat oil in a large frying pan over medium-high heat, add schnitzels in batches and 

cook each side for 3-5 minutes until golden and crispy. Transfer to a baking tray lined with absorbent paper towel.

To make the slaw, in a large bowl season cabbage with salt and pepper. Add the 

zest and juice from half a lemon, white wine vinegar and half the olive oil and mix until well combined. Add remaining ingredients and toss through cooked peas.

To serve, pile the slaw onto plates with the schnitzels and serve with a lemon wedge.
---
See more recipes from Bega Foodservice

---
18th March 2021