Scotsman XSafe keeps your ice machines clean and safe
XSafe is the new natural sanitising solution for Scotsman commercial ice-making machines ensuring hygienic consumable ice for their customers.
Scotsman's XSafe is a natural cleaning solution operation 24/7 to keep ice machines clean and safe.
The high power ultraviolet (UV) light generates a highly-reactive oxygen mixture that flows through the food and storage zones. XSafe eliminates the growth of viruses, bacteria, mould or yeast and increases the life of the ice machine by up to 30%.
XSafe is now standard on almost all models of Scotsman ice machines ranging from gourmet cubes, square cubes, flake, nugget and cublet ice maker machine models.
Scotsman XSafe is also available as a retrofit solution for most existing Scotsman ice machines models already in the market.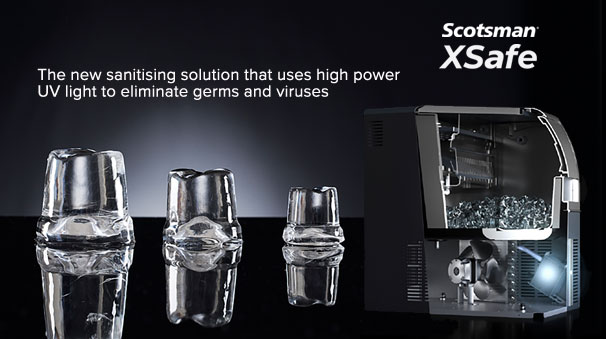 XSafe works as a natural and endless cleaning cycle
High power ultraviolet (UV) light generated

Destroys viruses and bacteria

Prevents formation of slime, mould and yeast

Cleaning costs of the ice maker can be cut by at least 50%
Increases the lifetime operation of the ice machine by 30%
Chemical-free clean-in-place ice machine system
Improves ice – clean, pure and tasteless
Automatically operates behind the scenes 24/7, 365 days a year to keep equipment clean and safe 
---
Please contact us if you require more information.
29th April 2021