Winestate Magazine exclusive to Australian Hospitality Directory subscribers
Welcome to your complimentary copy of Australia and New Zealand's oldest and most respected wine publication.


Read your free copy of the Annual 2020 edition here: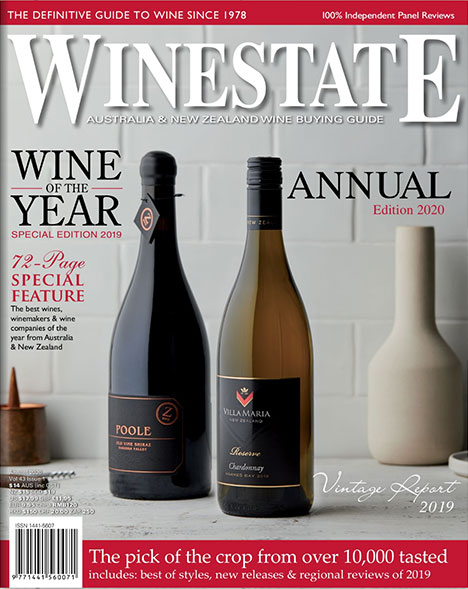 About Winestate Magazine:
In 1978 when Winestate Magazine began it was to set the benchmark for other industry publications to try and match.

41 years later, many of those other publications have been and gone while Winestate has remained the leading independent wine magazine for Australia & New Zealand.

When Winestate was first produced, Australia had less than 200 wine and brandy producers and New Zealand significantly less. It was not impossible for a serious taster to get to know most of them.
Today, there are more than 3,000 wine producers across the two countries. That's more than ten times as many!
Winestate is trusted by its 300,000+ readers to deliver 100% independent credible wine reviews - always judged blind by a three-person panel of winemakers and wine professionals. Now judging over 10,000 wines every year, Winestate is the only Wine Buyer's Guide you need. Enjoy the magazine and feel free to visit us at www.winestate.com.au
---
Disclaimer:
Winestate Publishing Pty Ltd ABN 56 088 226 411 does not accept any liability to any person or persons claiming they have been misled or deceived by any material published herein. Winestate Publishing Pty Ltd will make every effort for editorial content to be true and accurate but does not guarantee that this will be so in any regard. Readers are required to use their own judgement in these matters. Winestate charges an advertising fee for the space involved given to the advertiser, under normal advertising space protocol. Advertising in the magazine is the sole responsibility of the advertisers and Winestate takes no responsibility for content. Winestate has no financial ownership or commission arrangements with advertisers.
Winestate is completely independent and does not sell wine nor does it gain any commission from any sales by advertisers relating to any reviews published in the magazine.  This offer entitles the receiver to individual access of the complimentary subscription through a link provided to the receiver via email. Please retain this email for the complimentary subscription period. The complimentary subscription does not include access to the Winestate website reviews, or free admission to the Winestate subscriber events/public tastings.  If there are queries or issues regarding this complimentary subscription please contact administration@winestate.com.au.
17th December 2020