New Exclusive Airex Refrigeration Range at Stoddart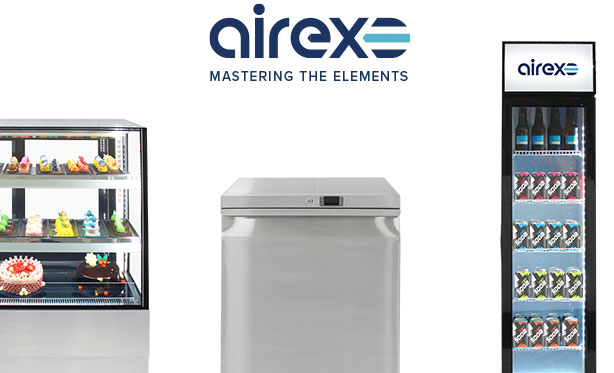 Airex is the new range of refrigeration and display units exclusive to Stoddart. Airex has been specifically designed and engineered in Australia to meet Australian standards and has been tested for Australian conditions.
---
| | |
| --- | --- |
| | Countertop and Freestanding Displays |
The Airex refrigerated displays are ideal for cakes and patisseries, operating at a cool 2 – 5°C range. Available in three different sizes, each unit is fitted with a vertically integrated airflow system, keeping products fresher for longer.
The heated displays are ideal for pies and hot pastries with an operating temperature of 60 – 80°C. The energy efficient fan forced system is designed to pass the air over the concealed water well, forcing the humidified air into the display - allowing products to look their best for longer.
The controlled ambient display comes with a refrigeration system that allows the unit to be operated between a 16 – 20°C, ideal for the display of breads and pastries.
In addition to the freestanding displays, the Airex range also includes options for countertop refrigerated and countertop heated displays. Both units feature a sleek black glass finish and are perfect for compact countertop applications.
---
| | |
| --- | --- |
| | Undercounter and Freestanding Refrigeration |
The Airex undercounter refrigeration comes in both a solid reversible door or double-glazed heated glass door option. Fan assisted cooling for uniformed cooling and LED lighting make Airex refrigeration a cost effective and space saving option.
The undercounter series of refrigerators and freezers use environmentally friendly R600 refrigerant, R290 hydrocarbon gas and a monoblock refrigeration system for ease of servicing when required. All units include LED lighting and a fan forced ducted airflow system to evenly distribute the air through the cabinet. Strategically placed baffles behind the front fascia make sure the hot air being expelled by the fridge does not mix with the fresh air being drawn in, helping with performance and energy efficiency.
---
| | |
| --- | --- |
| | Countertop and Freestanding Merchandisers |

Freestanding Merchandisers:
The Airex Upright Storage Refrigeration and Upright Freezers are feature packed, with vertically integrated ducted cooling throughout the entire range. The freestanding refrigeration range includes a monoblock refrigeration system, which uses environmentally R290 hydrocarbon refrigerant coupled with high density 80mm insulation to deliver efficiency across the range.
LED lighting as standard and 5 2x1 Gastronorm shelves per door offer customers plenty of flexibility. The units feature lockable doors for security; and the double-glazed glass door option in the refrigerated unit supplies a solution for nearly any application.


Countertop Merchandisers:
The compact countertop merchandisers feature a black powder-coated finish, vertical LED lights, 3 adjustable shelves (provided) and base. A single door or pass through unit allows the option of serving from the front and loading from the rear, and both are lockable as standard.
The freestanding slimline glass door merchandiser is designed for maximising limited floor space. With 5 adjustable shelves, vertical full-length LED and double-glazed lockable door - the slimline merchandiser makes it easy to display a variety of grab and go products. At only 390mm wide, this versatile option will fit seamlessly into both back and front of house applications
The Airex range of products is designed to go anywhere, into any commercial kitchen or any retail location all while offering a 24-month on-site parts and labour warranty.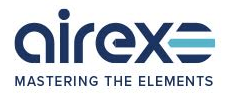 Want to learn more?
See the Airex range on the Stoddart website today.
---
12th November 2020