The Ultimate Cheesy Lasagne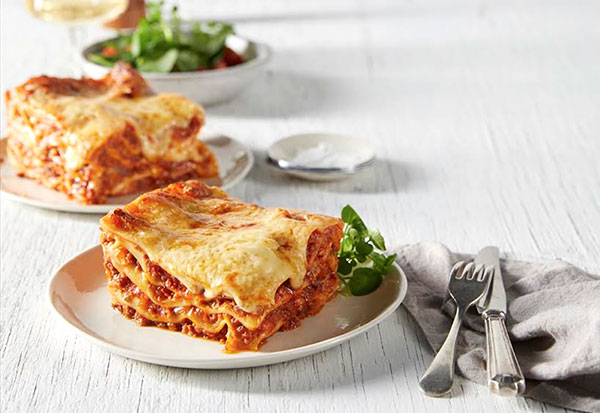 Enjoy the great taste of our Dairymont Shredded Parmesan and Shredded Mozzarella cheese in your delicious recipes. The balance between the layers of flavours is perfection, and is not to be missed.
---
Lasagne Recipe 
---
Prep time: 25mins  |  Cook time: 1hr 30mins  |  Serves: 4

Ingredients




1 tablespoon extra virgin olive oil

1 brown onion, finely diced

2 teaspoons thyme, roughly chopped

600g mix of pork, beef or veal mince

2 tablespoons tomato paste

125ml (1/2 cup) dry white wine

700g tomato passata

salt and pepper to taste

2 cups thickened cream

1 cup Shredded Tasty Cheddar

250g instant lasagna sheets

 
Method
Heat oil in a large, heavy based saucepan or frying pan over medium heat. Add onions with a pinch of salt and cook for 10-12 minutes until soft. Add 1 teaspoon of chopped thyme and mincemeat and cook for 8 -10 minutes until all the moisture has evaporated and meat has browned slightly.

Break up any large clusters of meat with a wooden spoon and stir through tomato paste. Cook for 2-3 minutes until beginning to darken in colour then add wine and cook for 1 minute before stirring through the passata. Bring to a simmer, reduce heat to low, cover with a lid and cook for 12-15 minutes until sauce has thickened and reduced by one-third. Adjust seasoning with salt and pepper, remove from heat and set aside.

In a large bowl mix together cream with ¾ cup of cheddar, ¾ cup mozzarella and ¼ cup parmesan.

Preheat oven to 180

°

C.

Lightly grease a 25cm square baking dish. Spoon in ¼ cup of cooked mince, enough to cover the base of the pan in one thin layer then cover with lasagna sheets. Trim sheets to fit to the edges of the pan if required.

Spoon over one-quarter of the cream and cheese mix to cover the sheets then spoon over another ¼ cup of mince. Repeat these layers twice and cover the final layer of pasta sheets with the remaining cream mixture followed by all the remaining cheeses and a sprinkle of chopped thyme.

Cover with one layer of baking paper, then foil and bake for 30-35 minutes. Remove foil and paper and bake for a further 10 minutes until cheese is golden and bubbling. Stand for 5 minutes before serving.
---
See more recipes from Bega Foodservice

---
24th September 2020