Ready, Steady, Vegemite & Cheese Spaghetti!
Want to jazz up the kids menu with an iconic Aussie favourite?
Why not introduce a VEGEMITE & Cheese Spaghetti to your menu! You only need 5 ingredients for this quick & easy dish:
---
Vegemite & Cheese Spaghetti
---
 Prep Time: 5 | Cooking Time: 10 | Serves: 4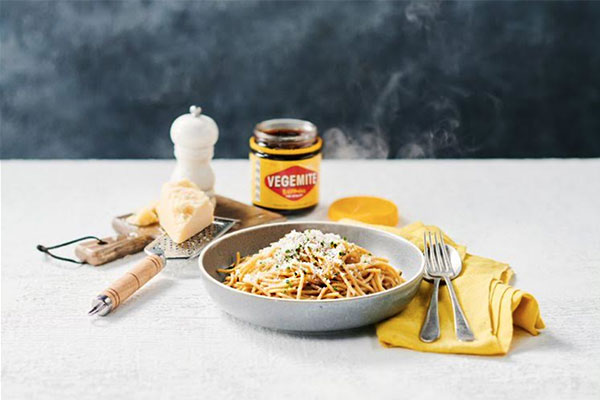 Ingredients

375g Spaghetti

1 tablespoon Dairymont Butter (20g)
1 tablespoon Vegemite (20g)

½ cup parmesan, finely grated (plus extra for serving)

2 tablespoons chives, finely chopped
Method
Cook the spaghetti in a large pot of salted boiling water for 8-10 minutes, or according to packet instructions.

Drain the cooked pasta, reserving ½ cup of the cooking liquid. Set both aside.

Place the pot back over a low heat and add the butter, Vegemite and ¼ cup of the reserved cooking liquid; whisking well until combined.

Return the spaghetti to the pot and toss through the sauce. Add the parmesan and remaining cooking water if needed and toss until well combined.

Divide between serving bowls and season with freshly ground pepper, extra grated parmesan and chopped chives.

Vegemite available in 2.5kg Tub, 4.8g Portion Control Carton and 9.6g Portion Control Carton

11th August 2020