A nutty twist to add to your burger menu!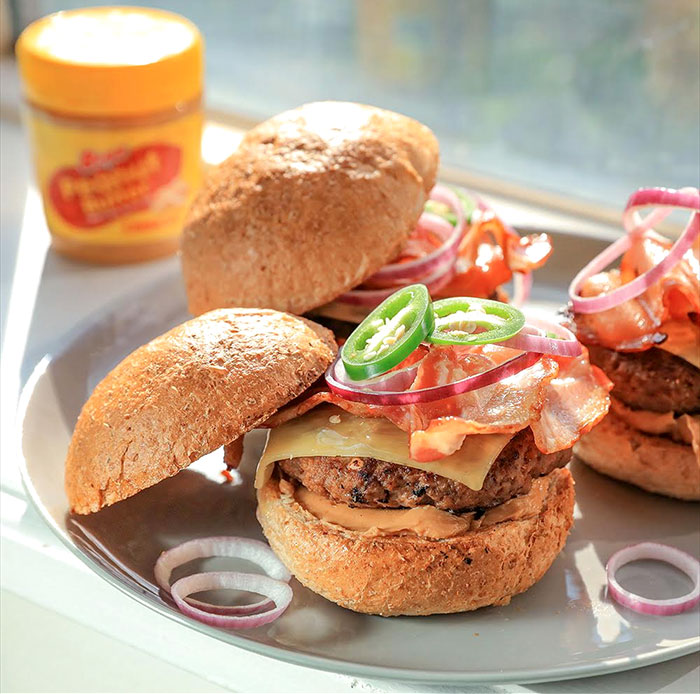 With fresh flavours, nutty goodness and a spicy twist, what's not to love about these Peanut Butter Burgers!
---
Bega Peanut Butter Burger Recipe
---
Makes: 6  |  Preparation time: 20 minutes  |  Cooking time: 40 minutes
Ingredients
 

750g mince

1 egg

¼ cup soy sauce

2 tablespoons of Sriracha

1 pinch pepper

Olive oil

6 wholemeal buns

6 pieces of Dairymont Hi-Melt Burger Slices

12 slices cooked bacon

Jalapenos to top

1 red onion to top, sliced
Instructions


Mix the mince, soy sauce, egg, Sriracha, two tablespoons of peanut butter and a pinch of pepper. Mix together, divide into six balls and flatten.


Cook the burger using a grill or fry pan, cooking each side for 4 minutes. Add Dairymont Hi-Melt cheese to the second side so it melts.


Cook the bacon until crispy.


Drizzle the buns in olive oil and toast for 1-2 minutes.


Spread the remaining peanut butter on the buns.



Dress each bun with bacon, jalapenos, red onion, and extra Sriracha to taste.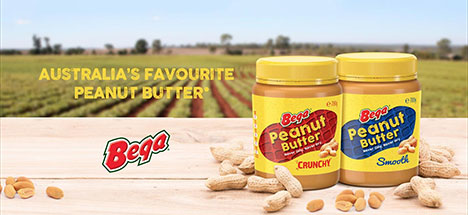 Visit Bega Foodservice for more recipe inspiration!

7th July 2020