3 ways to use Mission corn chips in your takeaway menu
Love Mission's corn chips?
- Here are 3 takeaway menu ideas for every meal of the day:
Breakfast/Brunch:
---
Corn Chip Coated Hash Browns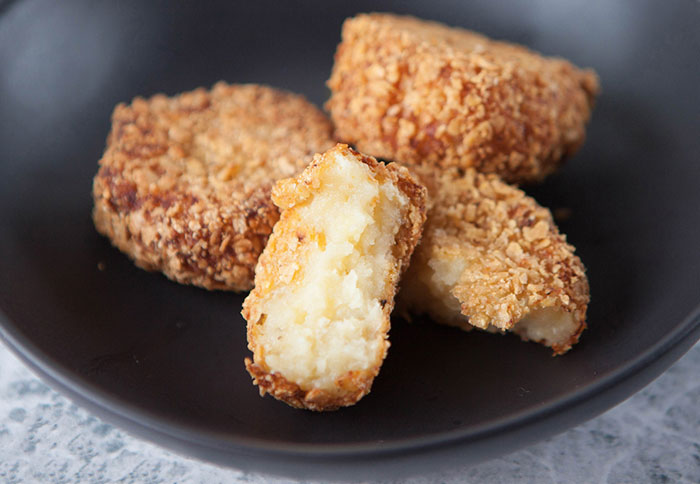 INGREDIENTS serves 4
Vegetable oil, for shallow frying
2 cups of mashed potato
2 tbs. cornflour, chickpea flour (GF) or plain four
1 tsp. onion powder
1 tsp. garlic powder
Pinch of salt
3 eggs whisked with 1 tablespoon of water
2 tsp. freshly grated Parmesan cheese
2 large handfuls of Mission Corn Chips
 
METHOD
Place the corn chips into a food processor and pulse 4-5 times to form a fine crumb. Spread onto a plate and incorporate the cheese.
In a large bowl combine the potato, onion powder and a pinch of salt. Using your hands roll golf ball sized portions and press down to form thick patties. Dip into the egg mixture and then the corn chip crumb.
Heat oil over a medium to high heat. Add the hash browns to the oil and cook for 1-2 on each side until golden brown. Drain on paper towel and serve hot with the sauce or condiment of your choice.
Lunch/Snack: 
---
Très Nachos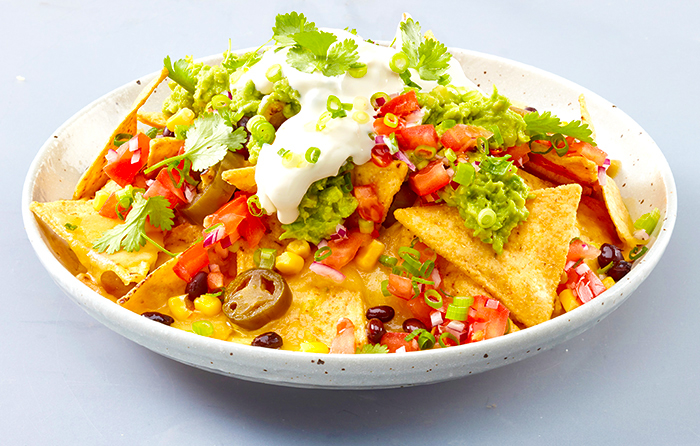 INGREDIENTS serves 6
500g packet MISSION Triangle Corn Chips
450g grated Mexican cheese blend or 4 Cheese Melt
¼ cup canned black beans, drained
125g jalapenos, drained
125g can corn kernels, drained
2 large tomatoes, finely chopped
4 spring onions, finely sliced
½ red onion, finely chopped
¼ bunch coriander leaves
1 avocado, finely chopped
1 tbsp finely chopped onion
Juice ½ lime
1 tsp salt flakes
To serve:
¾ cup light sour cream
Coriander leaves
METHOD
Prepare nachos; place a small handful of grated cheese on the base of a large ovenproof dish. Arrange a layer of MISSION Triangle Corn Chips over cheese and top with another handful of cheese. Continue layering corn chips with cheese until both ingredients are finished. Be sure to finish the layers with a good sprinkling of cheese. Spoon over black beans, jalapenos and corn. 
Place nachos in a microwave oven on high for 4-5 minutes to start the cheese melting. Transfer to a preheated oven of 200˚C for 5 minutes until cheese is completely melted.
Meanwhile, combine tomatoes, spring onions, red onion and coriander together in a bowl. Set aside. In another bowl, smash avocado, add onion and season to taste with lime juice and salt. 
To serve; remove nachos from oven and sprinkle with tomato mixture and top with dollops of sour cream and smashed avocado. Finish with a sprinkle of coriander leaves and serve immediately. Serve with a bowl of MISSION Premium Salsa
Dinner/Accompaniments: 
---
Corn Chip Crusted Corncobs & Jalapeño Poppers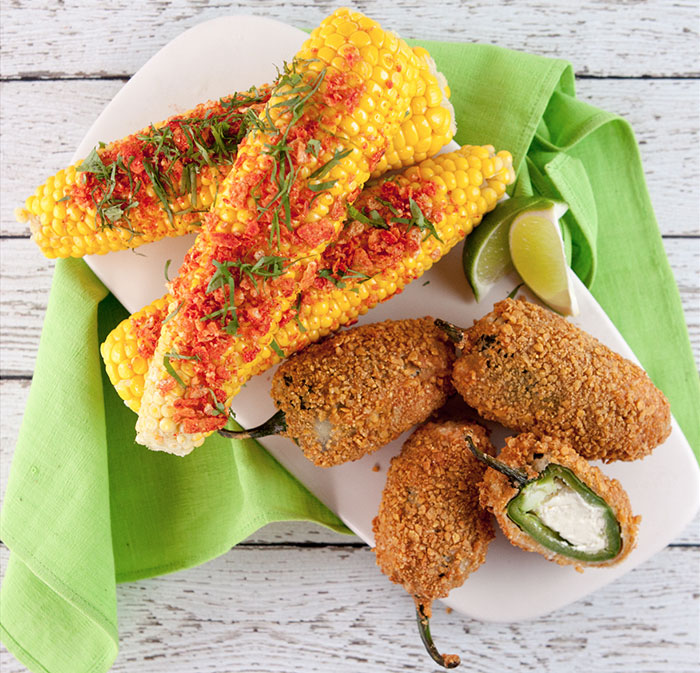 INGREDIENTS serves 4-6
For Jalapeño Poppers
2 cups Mission Corn Chips
12 fresh Jalapeño chillis
150g cream cheese
30g plain flour
½ cup milk
2 eggs, whisked
500ml vegetable oil (for frying)
For Corn Chip Crusted Corncobs
1 cup Mission Corn Chips
4 fresh corncobs
3 tbsp butter
Fresh coriander (to serve)


METHOD 
For the Jalapeño Poppers, blitz corn chips to a fine crumb.
Slice jalapeño vertically down the middle without removing stem. Scrape out seeds. Stuff each jalapenos with some cream cheese and carefully press back together.
Dip each jalapeño in milk, then coat with flour, dip in egg and roll in crumbed corn chips. Repeat this process for all jalapeños.
Heat the oil in a small saucepan over medium-high heat. Once oil is 180ºC, fry the jalapeños in batches for 2-3 minutes, turning them over in the oil so they are golden all over. Drain on paper towel before serving.
For the Corn Chip Crusted Corncobs, roughly blitz the corn chips.
Fill a medium pot about 3/4 full of water and bring to a boil. Gently place corn into boiling water and cook for 5 minutes. Remove corn from water.
Coat warm corn in butter. Sprinkle over corn chips and some fresh coriander.
---
Visit the Mission website for more recipe inspiration!
---
4th June 2020