Food To Go using Mission tortilla wraps
Need ideas? Here are some quick breakfast, lunch and dinner recipes for your Food To Go menu: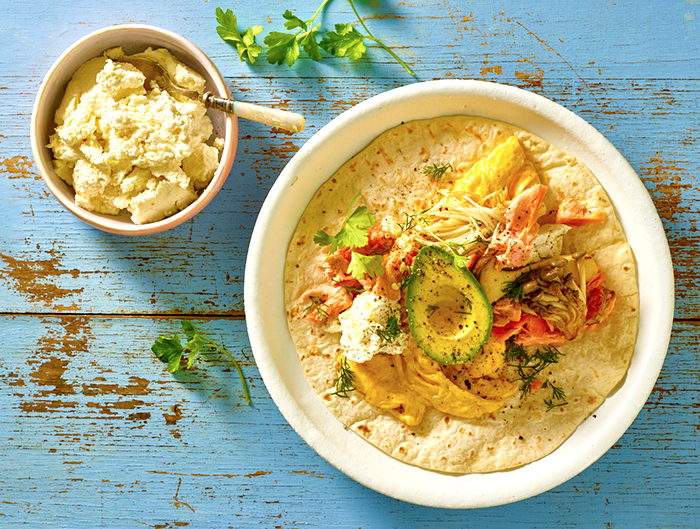 SMOKED SALMON & EGG BRUNCH WRAP (makes 2)
---
 INGREDIENTS
1 tbsp lemon juice

1 tbsp olive oil

1 tsp chopped dill

1 tsp chopped flat leaf parsley leaves

20g unsalted butter

150g punnet mixed wild mushrooms or #button mushrooms, sliced

200g packet hot smoked salmon, flaked

1 avocado, cut in half

2 x 10" MISSION Tortilla Wraps, heated on a grill plate just before serving

Micro herbs, optional

Scrambled Eggs




4 eggs

70ml cream

Freshly ground black pepper, to taste

2 tsp butter

100g fresh ricotta cheese, lightly beaten to soften using a spoon

 

 

 

 
METHOD 
Combine lemon juice, olive oil, dill & parsley in a small bowl and season to taste with freshly ground black pepper & salt. Set aside.

Melt butter in a small non-stick frying pan & add mushrooms. Cook over medium heat for 3-4 minutes or until mushrooms are just soft. Remove from heat and set aside.

Whisk eggs, cream, & pepper. Heat butter in a frying pan over #medium heat until frothing then add the egg mixture. Cook the egg, not stirring but drawing the mixture from around the outer

rim where it sets, towards the centre of the pan to allow the uncooked mixture to flow onto the hot pan. Continue until almost cooked through.

To serve; divide scrambled egg between the 2 Tortilla wraps and top with ricotta, flaked hot smoked salmon, mushrooms, and ½ avocado. Drizzle with the lemon dressing and sprinkle with herbs. Fold wrap to enclose filling and serve immediately.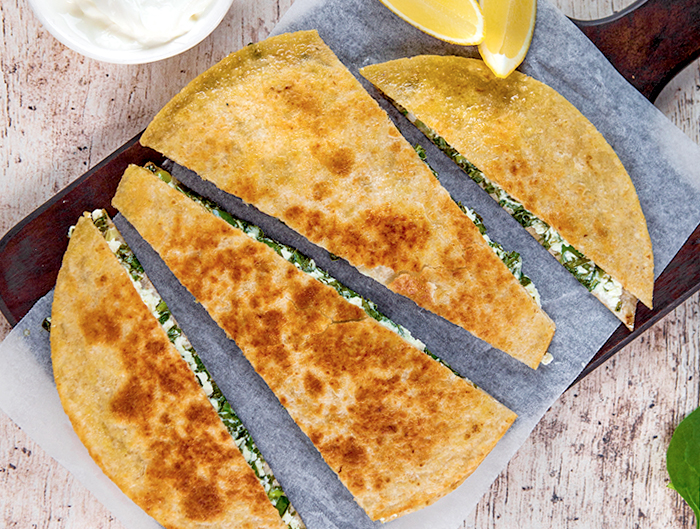 FETA & SPINACH INSPIRED GOZLEME (makes 4)
---
INGREDIENTS
Mission 8" Tortilla Wraps

150g feta cheese, crumbed

2 tbs extra virgin olive oil

1 lemon

2 cups of baby spinach, roughly chopped

½ cup parsley, finely chopped

½ mint, finely chopped

1 spring onion, finely sliced

Salt

Pepper
METHOD
In a bowl, combine spinach, mint, parsley, spring onion & feta. Squeeze in the juice from half a lemon. Stir to combine.

Place 4 tortilla wraps on the bench. Spread filling evenly over wraps. Place another wrap on top.

Heat some olive oil in a pan over a low heat. Fry tortilla wraps for 30 seconds on each side or until golden brown. Remove from the pan & cut into quarters.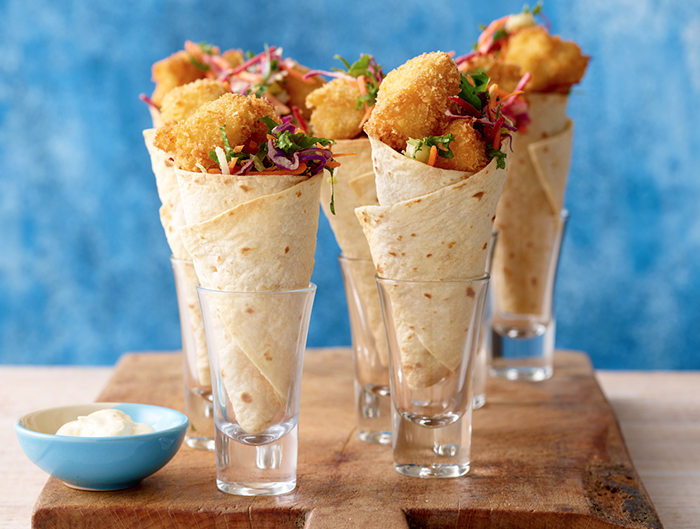 CHICKEN POPCORN CONES (makes 12)
---
INGREDIENTS
6 MISSION Tortilla Wraps

12 squares of paper towelling

½ cup flour

1 tsp smoked paprika

½ tsp salt

Freshly ground black pepper

2 large eggs

1½ cups milk

200g pkt panko crumbs

3 small chicken breast fillets, cut into 2cm cubes

1L canola oil, for deep frying

To serve:

 

 

 

 

 

METHOD
Prepare cones; cut each MISSION Tortilla Wrap in half & roll into cone shape. Secure with a tooth pick, then press the paper towelling crushed up into a ball into the wide end. Place cones onto a paper lined baking tray, seam side down and bake in a preheated oven of 180°C for 10 mins until lightly golden & crisp. Remove from oven, discard toothpicks and paper towelling & allow to cool on a rack.

Place flour, paprika, salt & pepper in a bowl and mix well. Whisk egg and milk together in another bowl. Place panko crumbs in another bowl.

Coat chicken pieces in flour, dip in egg mixture, then roll in the panko crumbs. Double crumb by re-dipping into the egg & crumbs, then place on the baking tray. Continue until all the chicken has been coated. Refrigerate for 30 minutes.

Heat oil in a wok or deep pan to 160°C. Fry chicken in batches for 3-4 minutes or until golden and cooked through. Transfer to paper towel lined tray.

To assemble; place the popcorn chicken in the base of the cone & top with a spoonful of slaw. Top with more chicken & a little extra slaw. Serve hot with a bowl of aioli for dipping.
---
See more recipes at Mission Foods
---
5th May 2020