Recipe: NEW Coon Parma Blend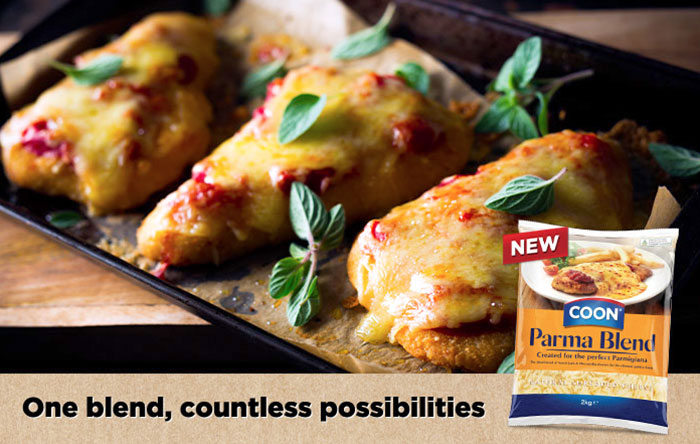 Our latest innovation to delight any cooking enthusiast.
COON Parma Blend is a unique blend of Mozzarella and Aussie Jack, guaranteed to delight any cooking enthusiast. With a fine shred profile designed specifically to melt quicker and go deliciously golden brown, it's not only perfect for parmas, it's also great for Mexican, pizza, baking and more!
CHICKEN PARMA RECIPE
---
Prep Time: 20 minutes  |  Cooking Time: 25 minutes  |   Serves: 4
---
INGREDIENTS

2 teaspoons grated lemon rind

1 garlic clove, crushed

1 teaspoon Oregano Leaves

1 cup breadcrumbs

1/4 cup plain flour

1 egg, lightly beaten

1 tablespoon milk

2 chicken breast fillets, halved horizontally

1/4 cup extra virgin olive oil

1 brown onion, chopped

2 garlic cloves, crushed

700g  tomato passata

2 tablespoons chopped fresh basil,
plus extra to serve
1/2 cup Coon Parma Blend

Salad leaves, to serve

METHOD
Combine lemon rind, garlic and oregano in a large shallow bowl. Add breadcrumbs. Season with salt and pepper and mix well. Place flour in a bowl, and the egg and milk in a separate shallow bowl. Take each piece of chicken and toss in the flour, then dip in the egg mixture, then press in breadcrumb mixture to coat. Transfer to a plate.

 


Heat 2 tablespoons oil in a large frying pan over medium-high heat. Cook chicken for 4 to 5 minutes each side or until golden. Transfer to a plate.


Heat remaining oil in pan. Add onion. Cook, stirring, for 5 minutes or until softened. Add extra garlic. Cook for 1 minute or until fragrant. Stir in passata and basil. Season. Bring to a simmer until slightly thickened.



Preheat grill on medium-high. Spoon half the passata mixture onto a baking tray. Top with chicken. Spoon over remaining passata mixture. Top chicken with Coon Parma blend. Grill for 4 to 5 minutes or until cheese is melted and golden. Top with extra basil and serve with salad leaves.
17th March 2020