Unfreeze your creativity - Golden Pancakes and Crumpets frozen for foodservice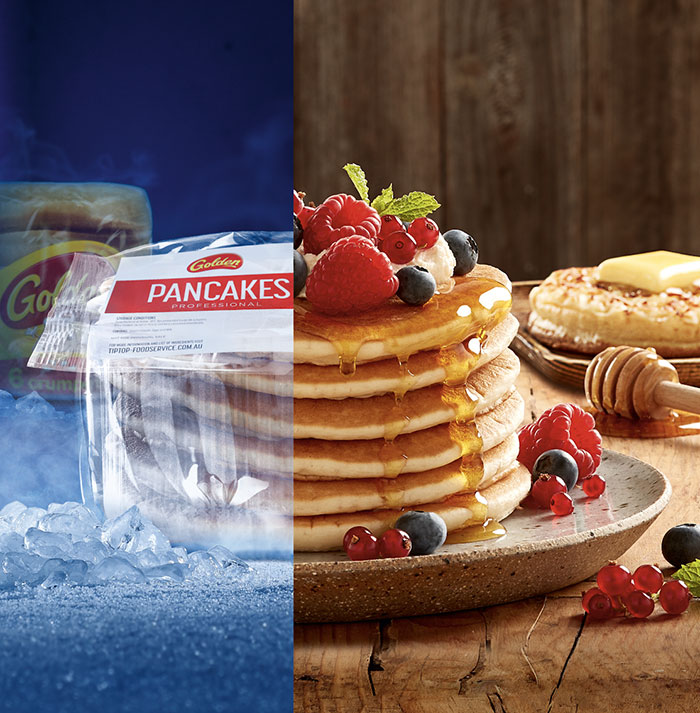 Have you heard?
Golden Crumpets, the much-loved Aussie favourite, are now available frozen via Foodservice distributors.
They join the always popular Golden Pancakes in Tip Top Foodservice's frozen bakery range, meaning regional venues can now enjoy the same quality and convenience as metropolitan venues.
Perfect for hotels, caterers and cafes, Golden Crumpets and Pancakes are versatile breakfast products. Tip Top Foodservice encourages outlets to 'unfreeze their creativity' with its frozen bakery range and try something outside the box.
Instead of a sweet pancake offering, try an American style big breakfast (using pre-made pancakes will save you heaps of time and grill space). Add some excitement to your crumpets with homemade toppings and fruit (instead of just the usual spreads).
---
If you're looking for inspiration, check out some of Tip Top Foodservice's 
FREE online recipes here:
---
Golden Crumpets and Pancakes are available frozen via foodservice distributors and can be kept in the freezer for six months, so you never have to worry about running out of stock.
They are frozen soon after baking to lock in freshness and defrost quickly - reducing waste and preparation time.
---
Get in touch with your local distributor to add frozen Golden products to your order.
---
18th February 2020