Up your game this Christmas with some Aussie favourites!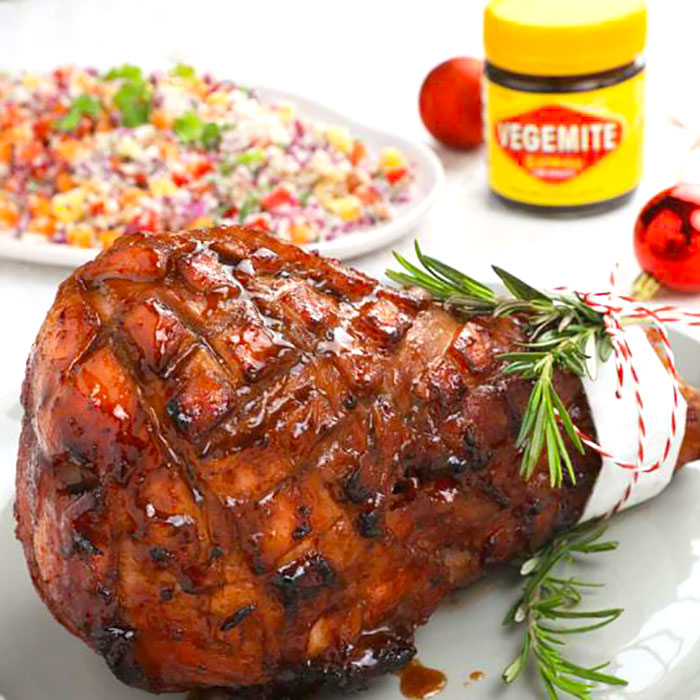 VEGEMITE Glazed Ham
---
Prep time: 35 min, Cook time: 1 hour 30 min, Makes: 6 servings
---
Ingredients
2kg ham

200g brown sugar

60g maple syrup

60g apple cider vinegar

50g Dijon mustard

25g VEGEMITE

1.5 tbsp allspice, ground
Instructions
Trim the skin off the ham, leaving as much fat on as possible. Remove any visible sinew and score the ham.

Cover the bone with foil to keep it nice and clean. Leave for an hour or until it comes to room temperature.
Preheat the oven to 180˚C.
Place all remaining ingredients into a bowl and whisk until sugar is dissolved and VEGEMITE is thoroughly combined.
Place a rack over a roasting tray and half-fill it with boiling water. Place the pork ham on top (make sure the water doesn't touch the pork), covering loosely with foil. Roast for 40 minutes.
Remove the foil, top up the water and baste with the maple syrup and VEGEMITE mixture.
Return to the oven and continue roasting for 40 - 50 minutes, basting lightly every 10 minutes or until a beautiful golden brown. Stick a thermometer into the centre to make sure that the meat has reached 60˚C.
Remove tray from oven and rest for 2 hours before slicing.
Cheesy Parmesan Pour-over-Your-Roasted-Veggies Sauce
---
Prep time: 5 min, Cook time: 7 min, Makes: 5 cups
---
Ingredients
 

Instructions

Melt Dairymont butter in a medium skillet over medium-high heat.

Sprinkle flour into melted butter, whisking constantly. Cook, whisking constantly, until mixture is golden and lumpy.

Gradually whisk in low-fat milk, and bring to a boil.

 

Cook, whisking constantly, until thickened.

Add Dairymont Shredded Parmesan, salt, pepper and paprika, whisking until smooth.

Remove from heat, and use immediately.

 

 

 

 

 

 
---
See more recipes from Bega Foodservice:
10th December 2019