Stains perform a disappearing act with new Clax® Magic Range from Diversey
Keeping hotel linen such as sheets, blankets, comforters and towels free of stains is an ongoing challenge given the number of guests that even smaller hotels welcome each year.
From spilled room service meals to makeup and even shoe polish, there are many stains that can settle onto linen over the course of a guest's stay. As difficult as it is to prevent guests' stains from occurring, there are steps that housekeeping can take to ensure effective removal so that stains do not become permanent.

---
Introducing Clax Magic by Diversey
Ready-to-use stain removers designed to eliminate heavy soils which will not disappear in the regular wash process. Applied prior to laundering, Clax Magic removes stains within a single wash, saving time, chemicals, energy, water and money.
Featuring innovative, concentrated formulations that are colour coded to enhance ease of use, Clax Magic helps get stains out on the first attempt. Combined with Diversey's stain identification materials, which laundries can use to classify the source of stains and select the appropriate product, Clax Magic will deliver effective stain removal.
"Stained bedsheets, tablecloths and napkins can easily turn off guests, putting an organisation's reputation at risk," said Deborah Walker, ANZ Marketing Manager, Diversey. "Pre-treatment of linen with Clax Magic offers organisations numerous benefits, including greater operational efficiency, sustainability savings, extended linen lifetime, cost reduction and brand protection."



---
 The Clax Magic range includes: 
Clax Magic Multi – for use on a variety of stains resulting from makeup, ink and more
Clax Magic Rust – for use on metal stains such as iron and rust
Clax Magic Protein – for use on protein stains such as foods, blood and grass
Clax Magic Oxi – for use on bleachable stains such as coffee, fruits and red wine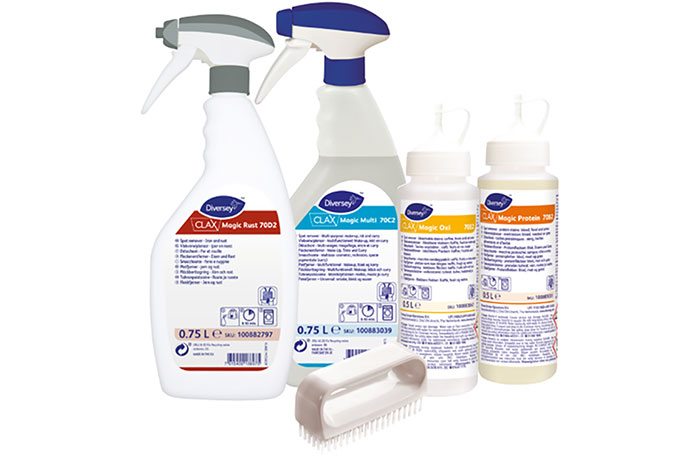 ---
For more information, visit 
https://diversey.com/en/solutions/fabric-care/clax-magic
*TNO standards by the Dutch Government. A typical Laundry Operating cost. The % of cost pie may vary depending on laundry conditions.
26th November 2019