MIND.Maps™ BIG launching soon!
The New MIND.Maps™ BIG oven will be launched at Fine Food Australia Tradeshow in Sydney (9-12 September 2019) 
One of Unox's goals has always been achieving cooking quality and reliability. Everything aims at absolute perfection, but at the same time everything must be simplified and standardised.

CHEFTOP MIND.Maps™ BIG is the result of over two years of great commitment by all the talented people working at Unox and today it establishes a new benchmark in terms of power, cooking performance, ergonomics, design and reliability.
The ADAPTIVE.Cooking™ technology transforms your oven into an intelligent tool capable of interpreting your settings and understanding your desired result. Using its sensors, the MIND.Maps™ combi ovens registers changes in temperature, estimates the amount of food actually being cooked, and automatically adjusts the baking process by tweaking the time and temperature as needed, guaranteeing you perfect, identical results with every batch. Textbook results, no matter what the conditions.
LONG.Life4 Extended Warranty available.Optional guarantee on spare parts for up to 4 years/10,000 hours*. The UNOX MIND.Maps BIG guarantees the highest level of baking results and simultaneously increases your savings in terms of time, energy and labour. 
The MIND.Maps™ BIG models hit a new benchmark in terms of power, cooking performances, ergonomics, design, reliability and aesthetic improvements that make them the undisputed performance leader in their category. The ovens heating element has been redesigned, changing its circular shape to being the first with a symmetric cooking chamber, to uniformly radiate heat throughout the oven. We also increased the diameter of the extraction pipe from 16 mm to 20 mm to increase the extraction speed by 88%, reducing the time required to emptying the cooking chamber by 50%.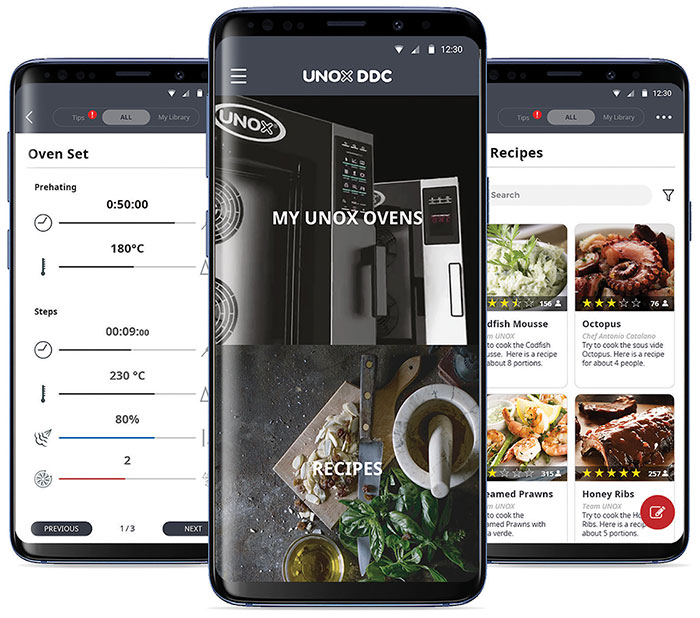 DDC.AI
Your CHEFTOP MIND.Maps™ oven is constantly streaming data to the UNOX cloud servers in order to enable the Data Driven Cooking service. The data collected is then processed with advanced algorithms to identify usage patterns and present to you personali­zed suggestions tailored to your speci­fic needs and recipes that you can im­mediately translate into new dishes for your menu.
8th August 2019