Get inspired with the PURA Tuscan Blend FREE recipe booklet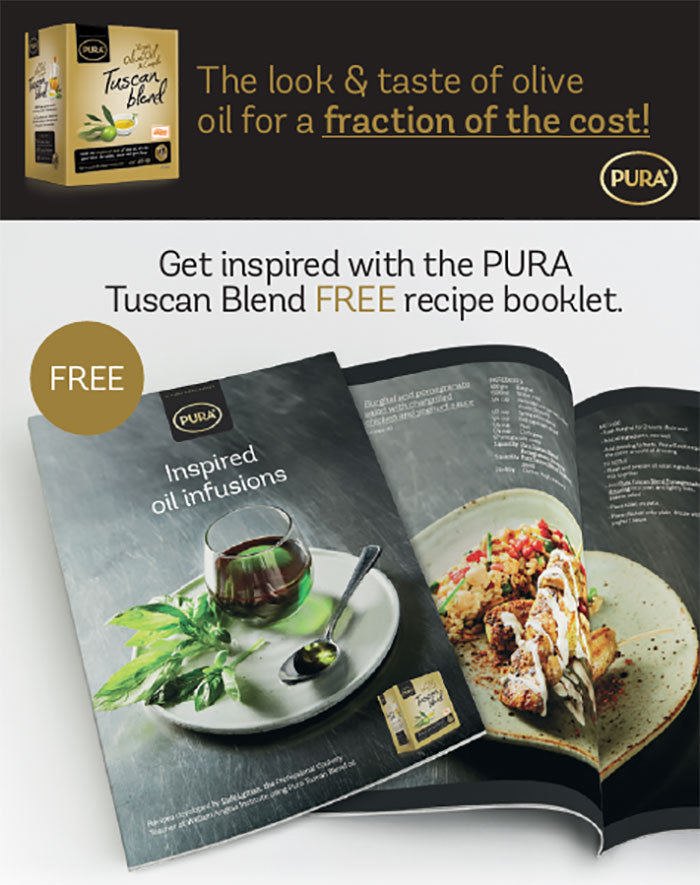 PURA Tuscan Oil Blend 15L bag-in-box is a unique blend of canola & olive oils, ideal for a wide range of culinary uses such as shallow frying, sauces & marinates, salad dressings and inspired oil infusions.

Packed into a lighter 15L bag-in-box, PURA Tuscan Oil Blend can be stored conveniently on your kitchen bench and the easy flow 'non drip' tap ensures quick usage at all times. With kitchen costs continuing to rise, PURA Tuscan Blend delivers the look & taste of olive oil for a fraction of the cost. 
Get inspired with this FREE PURA Tuscan Oil Blend A5 recipe booklet, containing 7 delicious recipes that have been developed by Dale Lyman, Professional Cookery Teacher at William Angliss Institute.
Dale understands that to create great food you need the best ingredients. That is why he chooses PURA Tuscan Oil Blend, giving his apprentices the best start to a world class career in food. 
---
To request your FREE recipe booklet, please contact us via our website 'Contact' page or from a Peerless Foodservice Manager.
---
5th September 2019