Experience the only compact gas combi oven in Australia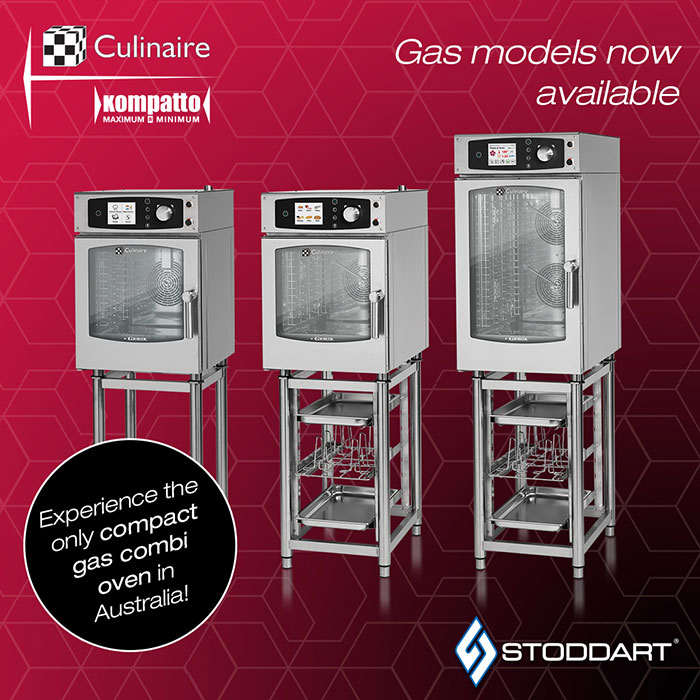 The Culinaire Kompatto combi oven contains all of the cooking modes of a great professional oven, as well as packing them all into a 519mm wide footprint. This is space optimisation at its finest, utilising 40% less space than a conventional combi oven, allowing more work space without any loss in production.
Although considered to be of superior quality, "dry" steam is not always suited to every food type and desired result. When cooking large food items or food with particularly dense fibres, it is advisable to use steam with the proper degree of hydration and penetration, which will cook the food faster while preserving the tenderness. So far, only the Kompatto's patented Steam Tuner system can deliver these options.
The Kompatto's unique Meteo humidity control system allows for precise and efficient water consumption with minimal waste. Additionally, the water needed to reduce steam condensation is used in a more economical way, reducing consumption even further. 
The Culinaire Kompatto range now contains a 6 and 10 tray gas combi option in a boiler model. The Kompatto range features the only compact gas combi ovens on the market in Australia! 
Like all Stoddart products, the Culinaire Kompatto is a robust unit that is built to last and is confidently backed with a solid 24-month warranty.
To discover more about this unique product, or to see a demonstration in one of Stoddart's operational demonstration kitchens in each state office, call 1300 79 1954 or email info@stoddart.com.au.
23rd July 2019